Meet The Band
The Joe Gransden Jazz Quartet has performed all over the world by now while releasing seven CDs in his own name.
Well-known for his "chops", dashing good looks and the hard bop approach of his trumpet, Joe's smooth singing voice has been compared to Chet Baker and Frank Sinatra.
Joe's peers throughout the country hear a talented trumpet player whose ace in the hole is a well-developed voice. Joe's demeanor as a nice guy who gains your respect and who treats people fairly is well thought of from Atlanta to New York.
Gransden has always managed to keep of his career and family life in balance. Even in these tough times, Joe lyricism and music depth brings a breath of fresh air to any audience.
Quote: $2,500 – 5,000
Songs list
1. On Green Dolphin Street 
2. Don't Give Up
3. After The Lovin' 
4. High Heel Sneakers
5. Let's Take A Chance Together
6. Seasons
7. The First Time
8. Why Should I Care 
9. Blue 'n' Boogie 
10. My Funny Valentine 
11. DJ 
12. Between Logic And Passion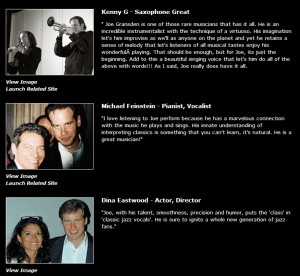 Jim Tiernan
Call: (678) 467-8263
Email: jim@blueskyatlanta.com
If you have any queries, please send a message, and we will be in touch soon.