What are the most important things that need your special attention when it comes to wedding planning? The guest list, dress, decoration, food or a wedding DJ? Well, the first thing that must come to your mind is choosing the perfect venue for the big occasion. The right venue can set the tone for your entire wedding. It helps set the mood, provides the backdrop for your photos and gives your guests a glimpse at your personality as a couple.
If you're getting married in the Atlanta, Georgia area, here are 10 great venues to start your search with. Whatever your style, you're sure to find one that catches your eye.
 For sports fans or couple who want something outside the ordinary, this luxurious, club-like venue located inside the Atlanta Braves' home stadium is sure to stand out.
Atlanta Botanical Garden
 With a dizzying 15 sites in one venue, from the Japanese Garden to the Robinson Gazebo, you'll be hard-pressed not to find something you love here.
 A truly unique venue with period gardens, outdoor terraces and an elegantballroom, this is a great fit for brides who want a graceful, timeless feel for their big day.
 One part secret garden and one part grand ballroom, this venue is everything the classic wedding should be: elegant, romantic and intimate.
 A pretty Plantation-style house with a spacious covered gazebo and an outdoor wedding chapel, this venue is romantic and charming.
Atlanta-Callanwolde-Fine-Arts-Center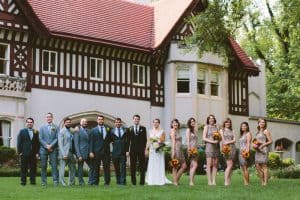 Perfect for a fairy tale wedding, this Tudor-style mansion features a great hall, grand staircase and beautiful formal gardens that will make you feel like royal.
 If glitz and glam are your thing, look no further than this "Old Hollywood" style venue with tons of unique personality.
Loft at Castleberry Hill
 Looking for something a little more trendy? This sleek, industrial venue is sure to please modern couples.
 This gorgeous antebellum mansion has a ballroom with floor-to-ceiling windows, terraced gardens and double verandas. Loads of photo opportunities here.
Washington Grass Inn
 Three charming venues in one, it's a great setting for everything from a rustic barn wedding to a shabby chic outdoor ceremony. It doesn't get more Southern than this.
Book your dream venue in your budget and plan for a perfect wedding entertainment 2018!