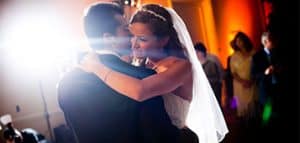 O.K…. the the call comes in from a bride asking Blue Sky Atlanta for real last minute help. They were in need of a Dj.  The Dj that they had booked  was in an accident just a few days ago and they needed to find immediate replacement. We hopped on the case and put the one and only great Atlanta Wedding Dj Gene Richards on the job and the result was amazing. Read below.
"Thanks to you and Dj-Gene Richards for making our wedding a huge success on Saturday April 24, 2010 at the Emory Conference Center Resort Hotel here in Atlanta. I don't know what we would have done without Blue Sky Atlanta Music & Entertainment! You stepped in literally within hours of the wedding to provide a high quality DJ (Gene was terrific!) and even accommodated our request to provide a microphone and speakers for the ceremony.
People really enjoyed the music at the wedding, and Gene was happy to play all of our requests. Thank you again for all of your help, I will definitely recommend Blue Sky Atlanta Music & Entertainment to my friends and family needing a Band or a Dj in the future, and would be happy to post positive reviews for you online. Let me know if you have any specific sites that I can post some positive feedback!
Thanks so much!"
Sandra and Tapuwa
This is the kind of occurrence and result we live for!