The Infinity Show Band  reflects the very best attributes of a variety dance band that has all the tools to make a wedding reception come alive and move the night on an upward trajectory. Seldom has a band – a music wedding band in Atlanta enjoyed as much success as this band. enjoys.  They know how to work with people in a most accommodating way.  The polish of this band is truly amazing end results they achieve make our clients very happy that they chose them for their party to begin with.
The Mike Veal Band is a stellar collection of some of the finest musicians in Atlanta.  They can perform all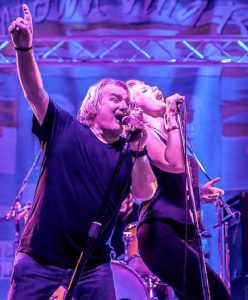 genres and surprise even the most skeptical listener with selections that one may have not heard another local band even attempt live – for example, Queen's Bohemian Rhapsody.  This Atlanta music wedding band can perform literally two or three nights of material  without repeating a song.  This is also the perfect band for your country club member-guest event.  They are so rich in material between them that a group can actually play "stump the band" with them.   Meanwhile, they pick up new songs to broaden their repertoire every month or so.  The guitar player in Mike band has collaborated with Steve Gadd, Paul Simon's favorite drummer,  in New York City via remote!
Glow has made quite a name for themselves in and around the southeast over the last 5 years.  The wedding music band in Atlanta packs a punch that is hard to beat.  Emanating from the stage at any given time I can expect selections from 70's Oldie sounds of the Doobie Brothers Band to the newest offering Lady Gaga!   They tend to cover all the bases about as well as it can be done.  So, if one is seeking the edge of a nightclub band mixed together they are the answer for you.  Whether your event is at the Cloisters or in North Carolina, this band can shoot out to do the date.
Society Express turns from light jazz world and big band sounds with their talented brass players to Motown, Disco and some of today's Pop music thrown in for good measure.  For the budget conscious talent buyer this is an excellent Atlanta wedding idea.
Few bands can get the job done covering such a wide range of music with a limited number of pieces.  They are used to performing and just as comfortable as a small ensemble or a larger group up to six musicians.   The local country clubs have long admired their work as
an exceptionally talented band.  The leader of this band actually takes the time to sit down and assist brides, for example, picking their music and insure that their requests are spot on.
Contact Blue Sky Atlanta Music & Entertainment to book one of the bands above for your next special event.
Click here to find Atlanta wedding music entertainment, including string quartets, jazz bands for hire, DJs, rock bands, or any other type of musical entertainment!