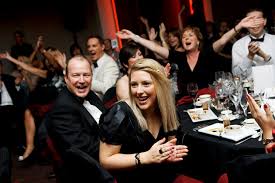 It is never too early to begin planning your corporate holiday party or your member guest weekend entertainment.  People today desire diversity and so diverse entertainment is key!  So today, Atlanta companies and Atlanta country clubs need that something  special and unique to hold interest.  You want to entice people to leave their Netflix for a weekend night go out and enjoy themselves dancing while mingling with colleagues and friends.  Since we realize that these nights can sometimes be stressful for guests, to begin with we believe the planners should think about a relaxing start as guests arrive and loosen up after a busy week.
When was the last time you danced with your wife or husband?  Not interested in a "package" but like some of these ideas? No worries, we can separate them for our clients and they are all available a la carte.  For example, we offer the services of the best Atlanta DJs!
Click here to request a quote for your Atlanta Holiday corporate party entertainment!