As much as you may be agonizing over napkin colors and invite fonts now, there are really only three things your guests will remember about your big day: the dress, the food, and the music. Focus on making these things amazing, and it won't matter if the flower girl ran down the aisle crying or your best man dredged up some less-than-flattering memories on his toast. As long as your guests (and you!) have an awesome time, the day will be a success.
You've read loads of advice about wedding "Do's." But what faux pas should you avoid — especially when choosing the music? Here's a list of what NOT to do.
#1: (Don't) Stick to Only One Genre
We get it; you're a country music fan. Chances are many of your friends and family are also country music
fans. But there will always be a portion of your guests who don't share your love of all things twangy (or whatever else you happen to love). Out of consideration for them, and in the spirit of everyone enjoying the evening, please play at least a few songs that everyone will actually recognize and want to dance to. I know it's your wedding, and you get to call the shots, but it's only common courtesy. And if you want people to actually enjoy your big day (you do, don't you?), a little common courtesy goes a long way.
What if you're having a themed-wedding? Talk to your music band, or your DJ, about playing at least a few songs (c'mon, just a few!) that have universal appeal. A great, experienced live wedding band or DJ will offer plenty of ideas about how you can stick to a theme/genre without alienating some of your less-enthusiastic guests.
#2: (Don't) Blast It During Dinner
Dinner is a time for guests to relax, mingle and get to know each other, so keep the volume down and choose conversation-appropriate background music. Kanye and Daft Punk can wait till the dance floor opens. Hire a great DJ or experienced band who understands the difference between "dinner volume" and "dance floor volume."
#3: (Don't) Make Us Watch You Dance. A Lot.
A father/daughter dance is expected. A mother/son dance for the groom and his mom is also acceptable. A wedding party dance is pushing it. Once you start getting into the step-grand-godmother dance, you've lost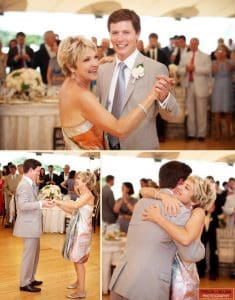 us.  There's only so much picture-taking and oohing and aahing your guests can do, so as much as you may want to include everyone in your big day, try to keep the "special dances" to a bare minimum (and please choose songs for them that don't go on forever). You can always pull your step-grand-godmother aside during one of the slow songs and have your special dance then.
#4: (Don't) Give the Guests Free Reign
There's always the threat that Great Aunt Mabel will request "The Hokey Pokey." But there are certain songs everyone (except Aunt Great Mabel) groans at when they come over the speakers, and it's worthwhile to avoid having the whole dance floor clear out in protest. (Or, worse yet, having everyone begrudgingly do the "Hokey Pokey" while secretly resenting you the whole time for it.)  If you absolutely despise dancing along with "YMCA," it is entirely within your rights to put it on the banned songs list. You're not being a bridezilla (or groomzilla) by setting some limits. You want your guests to have fun, but it's still your big day, and a few tasteful vetoes are totally allowed.
#5: (Don't) Let Your iPod be the DJ
I appreciate the frugality of couples who choose to forgo a pricey band or wedding DJ and instead hook up their favorite electronic device to play music master for the night. Weddings can be pricey — we
understand. But you need to think ahead if you're going to cut corners on the entertainment, because technology has a way of ruining things if it's left unsupervised.
A great DJ or experienced music band can  set the right mood depending on the situation (easygoing for cocktail hour, upbeat for the dance portion of the evening, etc.). The nice thing about DJs is they can read the room and tweak the song lineup to get people dancing. I'm not saying a create-your-own music route is impossible, but it takes some serious preparation to keep it from making the evening go flat. And since music is one of the three most important aspects of a wedding, it's worth spending your limited budget in this department. Cut back on the flowers — do you really need such fancy centerpieces?
Final Words
Music is such an important part of any wedding. It sets the mood and can make or break the whole day, so make sure you do it right by staying far, far away from the above mistakes.
Oh, and go with dusty rose for the napkins.