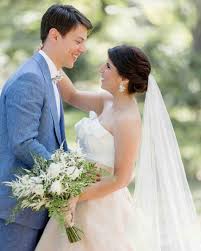 Something old, something new, something borrowed, something blue isn't the only wedding tradition out there. If you're planning your big day, chances are you've begun to realize that everyone, from wedding magazines to your Great Aunt Kathy, is telling you all the things your wedding absolutely must have to be considered a proper wedding.
We're here to tell you, you can scrap all of them.
Modern couples are bucking tradition left and right in favor of creating the wedding they dreamed of, not the one everyone else expects them to have. And you don't have to be an eclectic, alternative couple to break from tradition —- sometimes it's as simple as put aside all those wedding-site checklists and just listening to your gut.
Here are five traditions in particular that you can totally ditch:
1. The White Ball Gown

You have your own unique style, and you've spent your life expressing it. So how come now, on one of the biggest days of your life, you're supposed to don the same standard uniform everyone else does?
Your wedding dress can be whatever you want it to be — short, pink, fun, retro, or not even a dress at all. Sure, your mom might sniff that she always dreamed of seeing her baby girl walk down the aisle in a veil and chapel-length train, but she'll get over it. Be yourself on your big day. You'll regret it if you don't.
2. All Those Little Reception Mini-Ceremonies
The cake cutting (and the optional smashing of the cake into each other's faces).
The bouquet toss. (Followed by the garter toss, followed by some guy awkwardly trying to put the garter on some woman he barely knows in front of everyone.)
The clinking of the glasses to force the couple to kiss on command. (Or the singing of lame love songs, or whatever other cutesy trick guests must perform in order to command a kiss.)
They've all been done a gazillion times before, and for most people, they hardly mean anything anymore. If you're one of those people, feel free to scrap any and all of these played-out ceremonies.
3. The Receiving Line
Unless you're the Queen of England and your constituents need to pay their respects to you, nix the receiving line. It makes the ceremony drag on awkwardly while you could be taking pictures and ushering your guests off to cocktail hour — and how many people really know what to say in a receiving line? You can only hear "Congratulations" and "You look nice!" so many times before it starts to get old.
Instead, make time for your guests at the reception by making the rounds to each table and spending a few minutes chatting with people. It takes away the pressure of each person having to come up with some sort of clever thought to leave you with, and it's a lot more enjoyable than some stiff, forced situation.
4. Blowing Your Life Savings
Studies tell us that weddings nowadays run the average couple between $25,000 – $30,000. You do not have to be the average couple. You can have a perfectly lovely wedding for $10,000 or less if you're creative, careful and willing to part with all the bells and whistles no one really cares about. (Trained doves and personalized toasting flutes will not add terribly much to your day, let's be honest.)  That $25,000 – $30,000 could represent a down payment on a house, a contribution to your retirement fund or part of your future children's education. If you'd rather spend it on those things, then do. You don't have to empty out your bank account for one day, even if it's a big one.
5. Playing the Standards

You know the ones. The songs everyone expects to hear at a wedding reception (but no one really enjoys dancing to). YMCA. The Hokey Pokey. Love Shack. Save a Horse (gag) [Ride a Cowboy].
If you hate these songs, stand your ground and play whatever kind of music you want—show tunes, country, hip-hop, it's your call! Give your DJ or wedding music  band a list of the songs you want to hear as you're tearing up the dance floor, and don't be afraid to also give them a very clear "do not play" list in case anyone tries to request one of your least favorite songs.
Believe me, you may have one or two people who are absolutely heartbroken they won't be able to line dance to The Electric Slide, but everyone else will secretly be relieved.