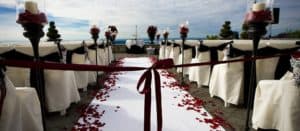 You've dreamed about this moment since you were little. (Or at least, since you got engaged.) It's your big day…one of the happiest days of your life…a day you'll always remember. And there are plenty of ways it could go totally, completely wrong.
Luckily, the biggest of these things are also totally, completely foreseeable. We've gathered together the eight most common things that could ruin your wedding, so that you can prevent them.
1. Not Taking Nature Into Account
If your wedding is outdoors, you absolutely must have a rain plan. If your guests will be sitting outside without cover for your ceremony, consider giving them fans and refreshments to beat the heat. If you're getting married somewhere that could get windy, make sure your hairstylist knows to plan accordingly (and you're not wearing a dress that could cause a Marilyn Monroe moment!)
2. Not Being Prepared for Emergencies
You can't plan for every single thing that might go wrong, but you can anticipate the most likely emergencies, like tears, stains and makeup smears. Pack an emergency kit you can stash somewhere at your venue (or give to your maid of honor for safekeeping). Key items include: a mini sewing kit, hair pins, pain reliever, stain/spot remover, hairspray, makeup for touchups, breath mints, and anything else that will give you peace of mind. When it comes to your big day, safe is definitely better than sorry.
3. Blowing Your Budget on the Dress
Yes, the dress is a big part of your wedding, but there are plenty of $1,000 gowns that look just as gorgeous as their $10,000 counterparts. Don't even think about looking at dresses outside your budget, because if you fall in love with it, you're in trouble. Also don't forget to take into account that the dress itself isn't the only thing you'll need to pay for you'll also have alterations, shoes, and accessories like the veil, jewelry and any hairpieces you might want.
4. Choosing Cost Over Quality
Yes, sticking to the budget is important, but you don't want to choose a vendor based solely on price. You don't want a cake that tastes like cardboard or a local DJ who keeps calling the bride "Mary" all night when her name is "Margaret."
While you should make sure you keep costs reasonable, make sure to vet everyone you hire to make sure they'll make your big day a hit, not a flop.
5. Trying to Please Everyone
Even if your parents are helping to pay for things, this is still your big day. You want everyone to enjoy
themselves, but you shouldn't have to pull your hair out over which family church you get married at or where to sit Grumpy Aunt Peggy at the reception. Do your best, make executive decisions, and realize that it's impossible to make everyone happy all the time.
6. Keeping Too Tight a Schedule
Hair and makeup nearly always take longer than you expect they will plan for that, and give yourself some extra time so the bride doesn't arrive half an hour late to the ceremony.
Photographs will also probably take longer than you think not only will you have your wedding party to pose with in a million clever ways; your parents will want a family photo, your college friends will want a reunion photo, etc. Make sure you've also accounted from travel time from the ceremony to the venue if they're in different locations.
7. Micromanaging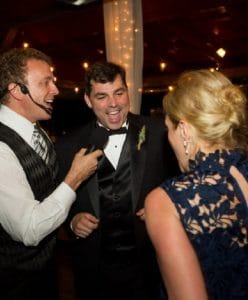 You've hired professionals for a reason. You should have already met with your caterer, officiant, wedding DJ, photographer, etc. to let them know what your expectations are. Once that meeting is over, step back and let them do their jobs.
8. Getting Too Wrapped Up in the Details
At the end of the day, you're wedding is about one thing and one thing only: your decision to join your life to the person you love. It's so easy to get stressed out by napkin color choices and save-the-date cards when you're in planning mode, but don't lose sight of the fact that this is a joyous occasion, and even if things do go wrong, nothing can change that.