Are you looking for the best entertainment options for your wedding that's just around the corner? Well, nothing can beat music when it comes to creating a perfect ambiance for wedding parties. Musical entertainment on a wedding day can be quite eventful as well as it adds lot of emotion and feelings to the whole occasion. It is important that you choose the right kind of music to have the right effect on the guests present on your big day.
There are a few options available to entertain your guests. Choose the one that suits your budget, taste and the size of your event.
Arrange Music on Your Own:
As this is going to be your special event, you may prefer to add personal touch to the entertainment part too. Make sure that you choose the best music for your guests according to their taste and age group. Try to select songs that will perfectly fit your wedding theme and your individual taste too. The song list should include contemporary wedding songs, best dance numbers to rock the party mood and some of the greatest romantic melodies that will last in the memories of the guests for years to come.
But if it's a big event with a number of special guests to attend the ceremony, you must think twice before planning the musical aspect. As there will be a ton of things you need to plan and take care of on the big day, I would not suggest you to take the risk of arranging music on your own which may turn into a big embarrassment later if not executed properly.
Live bands in Atlanta are very popular these days. Choose a popular band or a wedding DJ for entertainment and the only thing you need to do is just relax and enjoy!
Book Live Wedding Music Band:
There is nothing better than a live band on your wedding day since it connects to the audience and sets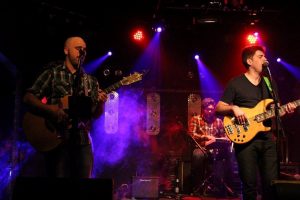 the mood for the party immediately. They play hit dance numbers so that people get on the dance floor for a long time as well as make the guests sway to their romantic melodies.
Make sure that they get enough time to set the stage and arrange their instruments on stage well in advance to carry out the event smoothly.
Get Wedding DJ for Hire:
Wondering whether a wedding DJ is worth spending money? Well, a professional wedding DJ is highly recommended for the grand occasion that can easily go with the flow of the party and connect to the audience easily. But taking reference from others, who have experienced the performance of the wedding DJ before is very crucial; otherwise the whole thing can be quite disappointing.
So, hire a band or a wedding DJ, whatever is your preference, must be a professional and experienced one to get the things just right for your wedding entertainment.