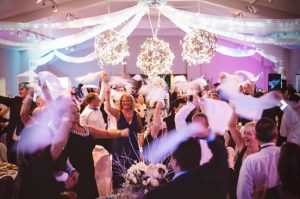 What types of entertainment should you feature at your Atlanta wedding?
Most people think about "traditional" forms of wedding entertainment, such as an Atlanta wedding DJ who spins the tunes we heard in the 1980's and 1990's through today. Or they might think of featuring a musical band that plays in the classic rock genre. This is like the "neutral color" of wedding entertainment: it's a type of music that ALL party guests can enjoy, regardless of whether they're grandparents or teenagers.
But other than these "traditional" types of wedding entertainment, what else can you choose?
#1: A String Quartet
Want a wedding that evokes sophistication and class? Feature a string quartet. This doesn't necessarily need to be the "main headliner" during your reception. A string quartet can play "Here Comes the Bride" as you walk down the aisle. It can play Beethoven and Chopin while your guests feast on your wedding dinner. It can entertain guests at a very posh reception dinner or it can perform only during the rehearsal. It's your choice.
The bottom line, though, is that a string quartet evokes an upscale, regal and refined atmosphere. It's a type of wedding entertainment your guests won't forget.
#2: A Jazz Band
Want something a little funky and fun, but also classy? Get a jazz band for hire for your Atlanta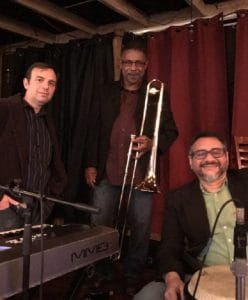 wedding. Jazz evokes the swinging nightclubs of the 1920's, which adds a carefree, fun flair while also showing grown-up taste and historic appreciation. Plus, jazz music is just good fun.
Here are a few types of jazz performers you can choose from (click on the links to learn more):
This is just a small sampling of the vast array of jazz band options — contact Blue Sky Atlanta Music & Entertainment for more. (The contact button is on the right!)
#3: Retro, Oldies and Variety Music
Want a throwback to the past that your parents and grandparents will enjoy? Entertain your wedding guests with a band that performs retro, oldies and variety wedding music. That link points to just one example, but there are plenty of bands in the Atlanta area that perform this type of music. Use the contact form on the right to find more.
#4: Party Band
Want a little bit of everything? Hire a "party band" that can perform a variety of high-energy styles and genres, from rock to R&B to country to jazz. The Mondo Party Band can change their style based on the audience's response. Meet with them beforehand to discuss the type of music you'd like at your wedding, or let them feel the crowd and play to the room!
Contact Blue Sky Atlanta Music & Entertainment to get in touch with a musical band (like the Mondo Party Band) that can play a wide array of versatile music.
Click here to find Atlanta wedding entertainment, including string quartets, jazz bands, DJs, rock bands, or any other type of musical entertainment!