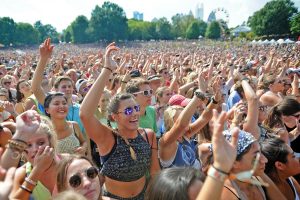 Summer festivals of the year are over by now but music lovers still have a lot to explore as a series of music festivals are still to happen in and around Atlanta during September to December 2018. Catch your favourite band or artiste at some of the biggest music festivals people in Atlanta are yet to experience this year.
Here goes the line-up for Atlanta Fall Music festival 2018:
Music Midtown
Music Midtown, one of the biggest music fest in Georgia is going to be held in
Atlanta on 15th and 16th September this year. The open air festival attracts a large numbers of music fans to Atlanta every year from all parts of the state. The list of musicians, scheduled to perform at the Piedmont Park music festival in Atlanta 2018 has been released by the organizers and it includes some of the biggest names of the music industry. Top bands like Imagine Dragons, Kendrick Lamar, Fall Out Boy have already made it to the headlines and music fans are eagerly waiting to see these critically acclaimed bands performing at the weekend festival. If you don't want to miss this opportunity, get a ticket of the open air show at the earliest.
Imagine Music Festival
The 5th anniversary edition of Imagine Music Festival is about to begin in September this year which has already released its full list of performers for the event and is all set to put the stage on fire. Being one of the most awaited electronic dance music events in the entire Southeast, the music festival at Atlanta Motor Speedway will feature some of the top Atlanta DJs, bands, electronic musicians along with cirque-style acts to entertain you. Bands like La La Land, Latmun, Tiga, Boogie T & Squnto, DJSS, Yheti b2b Toadface, Kenneth Thomas, and Weiss have added to the line up alongwith and 70 odd local artistes for hire. To be held from 21st to 23rd September, 2018, the festival will be one of the last remaining independent festivals of the year and will stage headliners like Armin Van Buuren; Alesso; Galantis; RL Grime etc. with Bassnectar and Kaskade to join the dream line-up too. This year your experience
at the Imagine music festival is expected to be bigger and better as the festival continues to grow every year with its ever increasing fan support with several camping activities, additional gates for entry and exit, upgraded VIP lounge, more customized stage designs and other measures adopted to the create better guest flow and shorter waiting ques.
An early entry is always advisable to such festivals. Make sure that you carry your age proof as the event is only for people aged 18 and above.
Well, if that's not enough, there is much more to come for the music lovers this year..Stay tuned…