Atlanta is going to host one of its prestigious International musical events, the Atlanta Jewish Music Festival 2018 next month, scheduled from March 8 to March 25. This is the ninth year of the signature spring music festival that will feature a myriad musical line-up keeping in mind the varied taste, background and age group of the audience. Audience from both Jews and non-Jews community participate in this three weeks long musical extravaganza to be held in different locations all over Atlanta. This is the biggest opportunity where the community gets a taste of the wide range of world music. The unique musical performances feature rock, hip hop, jazz bands and many more.
People all over Atlanta are pretty excited as they will be introduced to some fresh talents this year, as well as, a few of their old hot favourites are going to make a comeback this season. The main highlights of the event include a troop of international musicians who are surely going to mesmerize the audience with their soul-touching performances.
During a recent press release, the festival Executive Director Russell Gottschalk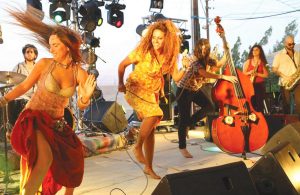 could not suppress his excitement saying that "I can't think of a more interesting 100 hours in AJMF history than this spring festival's opening weekend. We have multiple artists performing Yiddish classics, a new-school Yemenite funk band, Grammy Award-winning folk singer/songwriter, two Shabbat services, and one awesome new collaboration with the Atlanta Science Festival to debut Gil Weinberg's music-playing robot, Shimon."
The AJMF will put on 23 shows in 18 days of this festival, which is going to open with the performance of Yiddish classics, followed by Klezmer dances, performances by virtuosic duo TsveyBrider and international band Beyond the Pale.
The main highlights of the festival include:
 March 10 and 11 (Saturday and Sunday) –
Marc Cohn @ 6:00 pm – 10:00 pm
This event is in collaboration with City Winery Atlanta and has two shows.
 March 15 @6.00 pm to 8.00pm
Joshua Radin
March 24 (two shows) @ 7.00pm to 11.30pm
ATL jointly performs with Billy Joel's "The Stranger".
Pianist/composer from New York Joe Alterman will also perform.
AJMF proudly announces a new joint venture with the Atlanta Jewish Teen Initiative (AJTI) craeting a Teen Track lead by Sammy Rosenbaum, the AJMF board alumni.
Other than the events mentioned here, the festival has a lot more to offer to the music lovers. So, stay tuned in March for one of the biggest events in Atlanta entertainment world.