Looking for some creative spots for your Atlanta wedding? Check out these out-of-the-box wedding ideas.
1. Get married in the backyard.
Believe it or not by asking around you are likely to find someone with a fantastic backyard that would be willing to let you use it for your ceremony or reception. The cost is virtually free, and if you find the right yard you may have to do very little work to dress it up.
2. Try out the park.
Many local parks will issue you a permit for free or a very small fee to get
married there. In fact, it is not only cheap and beautiful but also creative. If you are lucky enough to live in a beautiful area take advantage of the local scenery by getting married right in the open.
3. Try the museum.
If you and your significant other have a love of art or learning this would be both a creative and fitting place for you to say your vows. Many museums rent out private areas on the cheap so that's a bonus as well.
4. Near the Chattahoochee or Lake Lanier.
Natural landscapes can offer you a creative location to say your vows and to party down. Local waterfronts like the Chattahoochee River or Lake Lanier can provide the backdrop to create the wedding vibe you want. Who wouldn't want to get married by a tranquil lake or rushing river?
5. The Atlanta Zoo in Grant Park.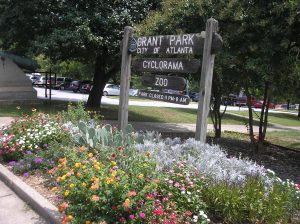 Do you and your fiancé have a favorite animal? Why not get married at the Atlanta Zoo in Grant Park where your guests can get an experience after they see you two tie the knot?  Incorporate the animal into the rest of your Atlanta wedding theme and you virtually have your wedding planned!
6. Say I do at a winery.
Take a look at local wineries and investigate the atmosphere and see if it would fit well with your theme. If you love wine and spirits there simply is no better place to get married. Plus after the nuptials your guests can enjoy free wine tasting.
7. Historic location.
are tons of historic sites throughout Atlanta and many of them include fantastic buildings. You could get married on the steps of an old Cotton Farm house, or in Oakland Cemetary. The Atlanta metro area is dotted with gorgeous old buildings that will leave your guests in awe.
8. Hip restaurant.
If you are having a small wedding why not consider a hip restaurant? The idea is creative and will keep your guests from having to drive to a new location. You can say your vows and throw the party all in one spot. It's creative and fun, and will save you money in the long run.
Click here to get more information about Atlanta entertainment and music!