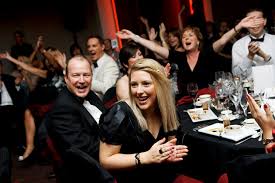 As your wedding day is approaching closer, you must be busy in ticking off the checklist and finalising deals with the vendors. Now, as you've found the venue, decided upon the menu, decor and the dresses, the next big thing that you should look for is the entertainment aspect of the party. It can be the most delicate part of your wedding planning, but choosing some great entertainment options on your wedding day is surely going to make your event talk of the town for years. Find some fantastic ideas to keep your guests entertained and save your big day from becoming a dull event.
Also, plan some fun activities for the kids and keep them engaged to ensure smooth running of the ceremony.
Hire a Live Band or DJ!
This is probably the best entertainment option for any event, especially if it's your
wedding. Live performances by great musicians will keep the guests engaged and enthralled throughout the ceremony. Choose the best live wedding band or DJ in the town with vast experiences of handling guests at a wedding reception. Make sure they play good music during show breaks; otherwise the tempo may slow down during breaks.
Play Fireworks
If your venue allows, do take the opportunity to brighten up your ceremony with fireworks, either at the beginning of the ceremony or once it is over.
Hire a Magician
This is a perfect trick to keep the youngsters at the party engaged. Book magician for hire who may also play card tricks with the guests at drinks reception.
Play R&B Wedding Melodies:
Play R&B wedding songs which are melodious and have perfect lyrics to suit all the special moments of a wedding.
Fun Flower Stand:
Gifting a well decorated flower stand with fresh flowers is a new and unique way to greet your guests at the time of arrival at the wedding. They may be offered to wear a flower crown, band, hair comb made up with their choice of flowers.
A Caricaturist or a Live Painter:
Caricaturists are fun to make wedding favours for your guests. Live painters are the other great option to create magic for the guests which they can treasure forever.
Guest Video Box
An X Factor video box is the current popular trend at weddings where guests can record their messages.
RSVP Playlist:
Apply this very simple yet effective trick to the guests where they can use their RSVP note to write down their favourite party songs and here you have your playlist ready!
Surprise Entertainment:
Surprise your guests with wedding entertainment that they never expected during the reception. A traditional ballroom dance, a comedy show, a salsa dancer or a fancy dress will surely add great fun to the event.