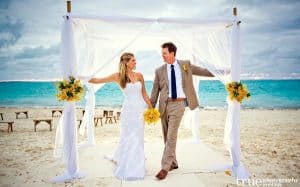 Lots of people think about music for their wedding reception. But what's the best wedding ceremony music that you can choose? That's actually a complex question, because there are several points during the wedding ceremony when the musical band or wedding DJ will need start playing. There's the:
1) Wedding Prelude Music
These are the songs that play while the wedding guests are getting seated, before the ceremony begins. Some brides prefer something soft, preferably without words, while others like more upbeat music to get their guests excited about the music. A live string quartet or harpist can play during the prelude, or a DJ can play anything from Chopin to Dave Matthews Band. Or make it really unusual — hire a strolling violinist to walk around the ceremony space.
2) Wedding Processional Music
These are the songs that play while the groomsmen and bridesmaids walk down the aisle (and, let's face it, while the straggler guests rush to their seats!) Most brides choose to make the tempo pick up a little at this point, which clues the guests into the fact that the ceremony is beginning.
3) Here Comes the Bride (or Not!)
You could ask a live music band, string quartet or DJ to play the traditional "Here Comes the Bride" song — or you can spice it up by playing something modern but still appropriate, like Kelly Clarkson's "A Moment Like This."
4) Wedding Recessional Music
This music gets played after the bride and groom finish the ceremony, become husband and wife, and walk back down the aisle as the guests cheer and clap. Most brides opt for upbeat music, since the crowd will likely be applauding at this time.
Click here to get a quote on Atlanta wedding ceremony music (and wedding reception music!), including string quartets, jazz bands for hire, DJs and more.