How do you know if a singer is good or not? Atlanta music spans a huge gamut of styles, from opera to classical to pop and hip-hop. Which singer is right for your wedding? Should you have someone sing during the ceremony, or only the reception?
#1: Choose a genre. Wedding singers in Atlanta can sing virtually anything you can think of. Hip-hop, Opera, pop, country, and classical are available options you have with wedding singers. The "best" genre is a matter of personal preference and style choice. Before you start looking for a singer, decide what genre of music you want.
#2: Make sure the singer matches the genre. Make sure the wedding singer you choose plays and sings the right style of music — opera, pop, hip-hop, whatever style you prefer. If you have a certain wedding theme, such as a rustic country wedding, then make sure the singer will perform a matching style of music. (Blue Sky Atlanta can help you find the right singer in ANY musical genre — click the link at the bottom of this article to contact us).
#3: Choose them for your ceremony or reception. Once you decide you want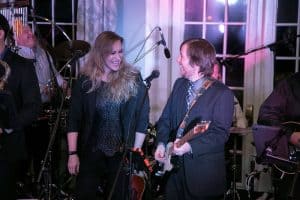 a wedding singer you then have to consider whether they should perform at your ceremony or reception (or both!). Many brides choose to have a wedding singer serenade guests prior to and during the processional for the ceremony. This will provide entertainment while the guests are getting seated.
#4: Check out their reputation. Of course, you need to choose the right Atlanta wedding bands for your wedding to go off without a hitch. Consider singers that have a positive reputation especially with previous clients. If they do feel free to go with them for your wedding, if not we are sure other brides will tell you if you ask. ((Blue Sky Atlanta can help you locate singers in Atlanta with stellar reputations and great references).
#5: Ask about price. Does the wedding singer charge by the hour or by the job? Request a quote so that you have an idea of how much you'll spend on a singer. Of course, go with what is best not only for your budget but also for your wedding.
#6: Test your singer out. Way before your wedding date consider having your wedding singer sing a few sample songs to make sure their ability is up to your standards. Listen to an audio track of them performing, or watch them do a live performance.
#7: Make sure there is a backup. Things happen, and if your wedding singer comes down with a case of laryngitis a week before your wedding you want to know if there will be a backup. Blue Sky Atlanta can help you arrange a great backup, so that you'll have a great performer on standby in case your #1-choice entertainer gets sick.
Click here to book music for your Atlanta wedding entertainment!