Most people who see model trains in a well thought out scenic layout can't help but smile watching them.  Although there are many forms of entertainment in this world, in a like manner, one of the things that never fails to bring a smile to the casual observer's face is a skilled caricaturist.  Kids and adults alike love to see what the artist is going to conjure up for his subject.  Whether it be on a golf course or a beach theme perhaps, the result is always an amusing reward for the subject's patience.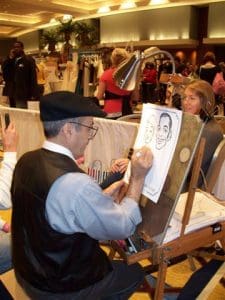 Caricature artist, Kourosh, draws all over America for us enthralling kids of all ages and adults with his magical gift.  He says of the kids, "They give me energy and I love their reaction once see  my work!"  This Iranian-born artisan creates a loving atmosphere and he has a passionate spirit that one quickly picks up on as they watch his imaginative, gifted hands  create one-of-kind studies of each willing participant.
From Birthday parties to corporate events, a caricaturist may be just the answer to that age-old question, "we need some non-musical entertainment to punctuate a uniqueness to our party, but what should we choose?"  The caricature art form is so understated that it can be, at times, the last thing on a party planner's mind.  However, I have heard people comment that it was the best thing at a party.
An experienced caricature artist can draw 6 to 7 subjects an hour.  Sometimes color is asked for as opposed to black & white.  At times we are asked to produce a "retirement souvenir" for them to bring home and make a lasting memory. ~JT
Click here to get a quote for musical and non-musical corporate party entertainers at your Atlanta corporate events!