A Note From The Owner-Jim
First meetings with talent you have picked and think may be the right choice for you both, believe it or not, does not always turn out that way you think it might. But, it doesn't hurt to meet with them, get their viewpoints as well as verification of their backgrounds so that you can assess for yourselves that you are going to be comfortable moving forward with them.
I am careful that I don't over-sell myself and our services here at Blue Sky Atlanta Music & Entertainment and it's talents. But, what I like to try to convey initially, in as short a period of time as possible, that our Bands and Djs are like big chunks of clay that one can mold to best serve their families' needs at the wedding reception, cocktail hour, or wedding ceremony. This analogy equates best to the talent that likes to serve our clients the way I have found successful over the last 25 years in the special event entertainment business.
I love meeting people face to face as it gives me insight on the couple too. I learn a little more about theme in person than I could through email or the phone. That's when I can let my passion for my work show through.
Here's a tip! Think of your entertainers as a athletic team. You want to see to it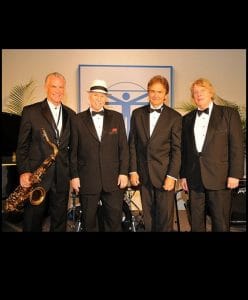 that the quarterback (leader of band or Dj) knows your playbook (your request: likes and dislikes) so that he can read the audience and plan the night's list of songs accordingly.
Picking the songs can be a lot of enjoyable fun for most couples or they may opt to let the entertainer(s) i.e., the harpist for her ceremony, choose appropriate selections for her.
We invite you to call us. We know and work with the best of the best! We are happy to help our clients get to enjoy a fun-filled wedding with as least amount of stress as possible.
You deserve it!
-Jim Tiernan – owner Blue Sky Atlanta Music & Entertainment