Countless wedding venues serve as beautiful backdrops for summer weddings in Atlanta. But dealing with Southern heat requires a bit more planning to keep everyone cool and comfortable. When planning an outdoor wedding around Atlanta, use these tips to ensure your big day is a dream — no matter what the weather looks like.
Avoid the Hottest Part of the Day
Early afternoon tends to be the hottest part of the day during the summer in the South, so plan ahead. Consider holding your wedding in the late afternoon or early evening. Or enjoy an outdoor ceremony before moving everyone inside where they can dance and party for the reception in a climate controlled area.
Use Hardy Decor
If you're holding any part of your wedding outdoors, try to incorporate the natural surroundings as your decor as much as possible. Many delicate flowers from the florist will wilt and look ragged if left out in the heat, so think about using plants that can handle direct sunlight for an extended period of time.
Don't Forget Your Guests
Your guests will appreciate little touches that show you thought of them. Make your programs into fans, pass out bottles of water before the ceremony, and ensure seats for the wedding are in the shade. Remember, your guests will arrive long before you walk down the aisle. Don't force them to wait in the hot sun.
Plan Small Gestures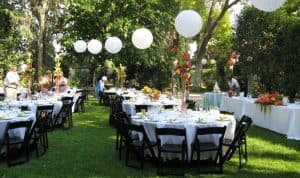 Keep several jugs of water (infused with cucumber or mint) on the appetizer tables and near the dance floor. If you want the live wedding band or DJ to play outside during the daytime, put up a canopy so that your guests can dance or mingle in the shade. These small gestures can make a huge impact.
Make Your Vendors Comfortable
An Atlanta DJ is as used to the summer heat as you are, but they and all your other vendors will be able to do their jobs better for you if they're also accommodated. If your entire wedding will be outdoors, make sure the caterers, wedding band, and anyone else part of the event have plenty of shade, water, fans — whatever will help them keep cool as they help put on a wonderful wedding.
Create a Backup Plan
Whether you're in Buckhead or Athens, Roswell or Woodstock, summer weddings held outdoors around Atlanta need to come with a backup plan. Afternoon
thunderstorms can pop up on the prettiest of days, so look for venues that can accommodate you indoors or under cover if necessary.
Your guests, wedding party, and vendors like your photographer and Atlanta wedding DJ will appreciate you thinking ahead and having an indoor backup plan, too!