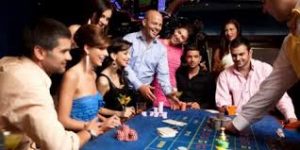 One of the most exciting ideas to hold events like trade shows, Christmas party, corporate parties or any other private party is the casino themed party. Games, cards, decorations, live casino entertainment, food and drinks are a few essential things that would add fun and excitement to your event. By creating a perfect ambiance for the casino party, you can bring a Las Vegas feel to your party. Hire a professional event booking agency that will provide you everything for a casino party entertainment like blackjack, craps table, crown and anchor, roulette etc.
They also provide lighting and decoration that would make the casino party look authentic and entertaining. A few other things like a DJ hire, background music or showgirls in full costume will add more Vegas feeling to the party. It's a perfect idea when you want to bring in a big group of people together like a corporate event or throw a Christmas party for adults.
Here are some important tips about creating a casino night for an event and how to manage it perfectly:
Pick Suitable Party Games:
Choose simple fun games that the guests would love to enjoy the most, otherwise games with complicated instructions may spoil the fun. Games like roulette, blackjack and poker are some of the highly recommended classic games for casino parties. You just need to get a roulette set, a poker table top, a blackjack table cover for the party game, all available within $30 each.
Decorations
Decorate your party venue with some fun casino party items like favors and casino balloons.
Try to enhance the perfect casino party look by setting up a mini red carpet lon the floor along with some velvet ropes and artificial trees on each sides of the walkway to welcome the guests to your party.       Decoration with a giant dice is economical but highly effective way to transform your party area into a gaming zone.
 Simple money buntings are just perfect as casino party decor whether you hang it from the ceiling or use to decorate blank walls.
Decorating your doors with cut-outs of playing cards is another great way to bring the casino theme feel to the party.
A relevant centrepiece made with old cards or other casino related props will be a good addition to enhance the party theme.
Casino party food and drink menu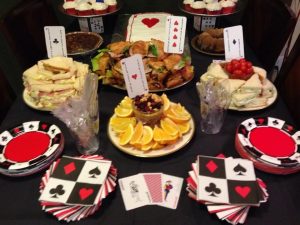 Try to add casino theme colours like red, white and black to your food that will keep the theme going with the menu too. Try to avoid serving greasy food as the guests may find it difficult to play cards after consuming it. Finger foods are better options as it is easy to have without using hands much. Serve food items in the party which the invitees can enjoy even when the game is on!
Select desserts, drinks and cocktails that are suitable for a casino theme party. Check out some of the casino themed cocktail menu with your party planner and serve in a separate counter set up besides the drinks section.
 Choose Appropriate Dress Code
If you want to keep it casual, jeans and t-shirts are just perfect for the party dress code. For a more formal look, opt for formal wear like black suits, ties etc., evening dresses and suitable accessories for women to add classy touch to the party.
Party Entertainment:
Hire a DJ or Elvis Impersonator to entertain your guests during the casino party. Casino party is a fun them, so add as much fun as possible to the event to keep the guests happy and entertained .