Dining al fresco brings the family together in a naturally inviting setting, provides a unique opportunity to entertain friends and can be an exciting escape from the normal routine. The key to hosting the perfect garden party is to incorporate natural elements into your design, select fresh menu items and choose event entertainment that is appropriate for the setting. From small gatherings to large events, these garden party ideas can be adapted for any size space.
Garden Party Ideas for Decorations
A little goes a long way and simple is better when planning the decorations for your garden party. Choose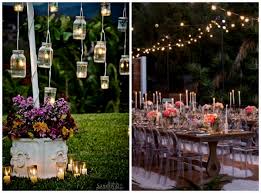 seating that is comfortable and naturally complements the outdoor space, such as a picnic table, farm table or bistro dining set. If possible, add seating in shaded areas of the garden or place an umbrella or two close by for guests to use should the sun be especially bright. Keep your centerpieces low so that conversation can occur easily across the table. Garden blooms, herbs and clippings placed in small glass jars are an elegant way to dress up the tables without being overpowering. If your garden party is scheduled for the late afternoon or evening, add candle lanterns to the tables as a centerpiece which can later function as ambient lighting. For larger gatherings, hang patio string lights above seating areas to illuminate the space with an inviting glow.
Garden Inspired Menu Ideas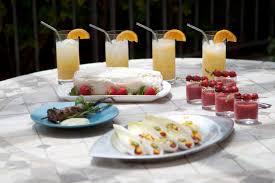 The menu for your garden party should be kept light and refreshing. Cold salads, tea sandwiches and vegetables with assorted dips are all classic choices for an outdoor meal. If you want to do something a little different, try hosting a community garden potluck. Invite friends to bring their favorite dish using selections from their own backyard gardens or your local community garden. Complement your fresh menu with a refreshing beverage inspired by the garden as well. For adults,  mix up a fruity sangria or a wine spritzer sweetened with homemade blackberry syrup and garnished with a sprig of thyme.
Homemade Blackberry Syrup Recipe:
Ingredients:
1/3 cup blackberries, plus 8 more for garnish
  1/3 cup water
    1/3 cup sugar
Bring all ingredients to a boil in a small saucepan, then turn to low and let simmer for 10 minutes. Strain blackberries and let syrup cool before adding a small amount to the bottom of each glass. Pour your wine spritzer or champagne over the syrup and garnish with a sprig of thyme.
Garden Games and Entertainment
As with any gathering, the food and decorations are only one element of hosting a fabulous party.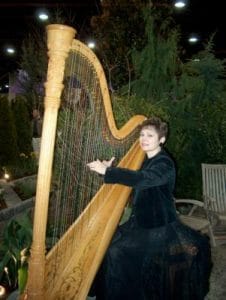 Entertainment is key to keeping your event going and providing guests with a fun way to interact. Including lawn games and music in your garden party planning is essential to creating a sophisticated, yet fun atmosphere perfect for the garden setting. Play a CD with your favorite classical music or treat your guests to an unexpected surprise and get a harpist for hire, classical guitarist or even a barbershop quartet to bring your party to life. Now that you've decided on music, it's time to entertain with games! Here are a few of our favorite lawn game ideas.
Garden Party Lawn Games
Twister
Croquet
Bocce Ball
Horseshoe Toss
Create a DIY Photo booth complete with props
Giant Tic Tac Toe
Giant Jenga
If you loved our garden party ideas, make sure to sign up for our email list so you are the first to know next time we post!