Throwing a holiday party?
You might be accustomed to "standard" holiday party entertainment: Perhaps someone is playing an iPod with holiday jingles in the background, or someone has turned on the Pandora "holiday" station and is playing it through some speakers.
But perhaps you should start thinking "bigger."
This holiday season, consider hiring a live musical band, solo instrumentalist, or DJ to perform at your next party. Regardless of whether you're throwing a large corporate event, planning a small office party for your small business, or hosting an extended family gathering, live entertainment can "set the stage" for a memorable holiday experience.
Still in doubt? Here are 3 reasons you should hire live entertainment for your holiday party.
#1: Live Entertainment is Memorable
Many people are used to hearing pre-recorded music at holiday parties — particularly if it's a small-to-mid-size party. But if you hire a band, you'll serve your guests entertainment that they don't often experience.
Holiday party hosts often try to create a memorable event by offering some new
type of food or drink. Perhaps this year, you'll hire caterers instead of cooking all the food yourself. Or perhaps you'll serve a trendy new type of recipe, like smashed potatoes with avocado garlic aioli.
That's great. But it might not be the "ingredient" (no pun intended) that sets your party apart from the crowd.
While great food is always appreciated, pause for a moment to ask yourself: Do you think your guests will talk about the food in the months and years to come? Will they post about it on Facebook? Will they reminisce about it next Christmas?
If you're a professional chef or an enthusiastic foodie, then perhaps that answer is "yes." But if you're the average party host, the food and drinks you serve and the decorations that you put up will be key "foundation stones" to creating a great event. Without great food and decor, there's no ambiance, no party. But these items won't be the stand-out portion of the evening. People won't remember this in the years to come.
But what if you hired a live musical band?
Suddenly, you've done something that's outside-the-norm — in a good way. You've created a unique event that will stand out in people's minds. You'll have a party that people will discuss for years.
That alone is a pretty compelling reason to hire a band this holiday season.
#2: Bands Come in All Sizes
Are you worried that your holiday party is so small, a large musical band will seem out-of-place?
Don't sweat. Musical bands come in all sizes. You could hire a quartet (4 people), a duo (2 people), or even a single instrumentalist, such as an acoustic guitarist or a piano player. (Don't worry if you can't provide a piano. Just talk to Jim Tiernan at Blue Sky Atlanta Music & Entertainment, who will help you plan the music and entertainment portion of your holiday event.)
The same is true as far as hiring a DJ is concerned. Some people associate DJ's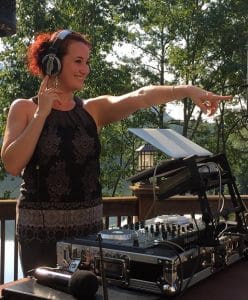 with large parties or nightclubs. But in reality, a great DJ can adapt his or her music and vibe to any setting. A DJ can perform for a small, intimate gathering, including parties that are as small as 20 people or fewer. Many stores, for example, will hire a DJ to perform at their "grand opening" — even if they're only expecting a small turnout. That's because they know that a DJ will provide an amazing atmosphere, while choosing music that fits the "mood" of the room.
#3: It Puts Your Mind at Ease
As a party host, you have a million things to think about: How's the food? Have the caterers arrived (or is your cooking finished)? Is the venue clean? Do the guests have a place to hang their jackets? Is there adequate parking? Does everyone have directions?
The last thing you want to be thinking about is music. Can you imagine needing to run back to your iPod every 30 minutes when a playlist finishes, or needing to subject your guests to listening to commercials on Pandora?
By hiring a musical band or DJ, you don't need to worry about the event entertainment. You're free to focus on the other aspects of throwing a grand holiday party — and you're free to enjoy the event yourself!