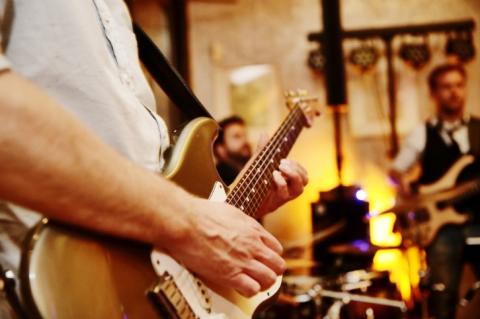 Around 66% of people learn to play an instrument, and that's because people love music. Music is a universal language that sets the tone for your day, life, and event.
So if you're planning an upcoming event, you might look for a band to hire. After all, providing live music for an event is a sure way to make it a memorable day.
But how do you hire a band? What are the steps? 
Here is a guide to help you learn how to hire the right band for your upcoming party. 
Consider the Type of Music for the Event
Events come in all shapes and sizes, so you'll need to consider your event type before choosing a band. After all, you'll want to hire the right type of band, and bands come in many types. 
One of the top hiring tips is to consider the options. For example, for a fun wedding event, you might look for a party band that plays ideal wedding songs. 
You can also choose acoustic bands, classical bands, bluegrass, and more. For example, you might hire a jazz band for a fun corporate experience. 
Ask for Recommendations 
Once you choose the music type, you can ask people you know for recommendations. For example, do you know people who hired bands for past events? Ask them what bands they hired and how they felt about them.
You might get a few ideas by asking around. However, you might not get any great leads through these recommendations. 
Look for a Talent Agency
One of the best ways to find the best music is by contacting a talent agency. A talent agency is a middleman between live entertainment groups and people who need to hire bands. 
A talent agency has a list of vetted bands you can hire for your event. You can look at the bands and their music type and even see their song lists. 
Additionally, talent agencies have DJs to browse through if you prefer a DJ. While a DJ is more affordable, DJs play songs, not live music. So there is a big difference.
After browsing through their list, you might feel drawn to one or two bands. 
Research the Band
You'll need to decide on one band, so you can research the ones on your list. As you research them, start by considering their availability. Are they available on the date you need?
Next, you can read the reviews about the band to learn what others think. You might also consider the costs. 
Finally, look through their song list to see if these are the song types you want for your event. Reviewing these things will help you select the best band for your event. 
Hire a Band to Make Your Event a Success
People hire bands for birthday parties, anniversary celebrations, corporate events, and many other events. Are you ready to hire a band for your party?
Contact us if you're ready to hire a band. We're a talent agency in Atlanta and can help you find the perfect band for your party.