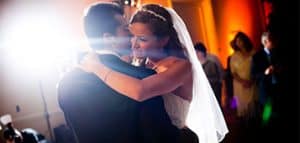 You want to throw a wedding that everyone will remember. And you know that a rockin' reception hinges on having an amazing musical band, or a fantastic DJ who can keep the crowd moving.
But you've also got a limited budget. How can you afford to have wedding music that people will be talking about for years?
#1: Talk to a Booking Service that Understands
Services that help brides-and-grooms-to-be find musical bands for hire and DJs, like Blue Sky Atlanta Music & Entertainment, are available to help people who have all types of budgets and price points. Contact BSAME and mention the budget that you're working with. Someone will have a conversation with you about the options that fit your price point.
#2: Cut from Other Areas
Will anyone really remember the flowers by the alter? Will people remember whether you opted for the large centerpieces or the small ones? I hate to say it, but … probably not. People WILL remember that they danced all night, dined on amazing food, and checked out the pictures on Facebook.
Emphasize key areas of your wedding (the music, food and photography), and trim your budget from some of the other areas that aren't as important to you (such as the centerpieces, the bouquet, the trinkets that you give guests as they're departing.)
#3: Try "Off-Peak" Times
Prices tend to rise during "peak season" (spring and summer), when the demand for musical bands and DJs at weddings tend to rise. Talk to BSAME about booking an off-peak-season wedding, when the prices for most things (not just bands, but also venues, catering and more) tend to decline. Atlanta, in particular, is a great setting for a fall wedding.
#4: Check Out a Variety of Bands and DJ's
There are a wide variety of bands and DJ's that you can choose from. Some music bands and DJ's are more established, have bigger reputations, are in-demand … and charge higher prices. Others, however, are bursting with talent but haven't necessarily established their reputation yet. And as a result, you can snag some amazing talent at a rock-bottom steal price.
Again, talk to BSAME, which can point you in the right direction. Fill out the form on the right-hand side of the page.
#5: Consider a Soloist
Want live music, but you're worried that you can't afford to hire an entire band? Consider hiring a talented soloist, such as a violinist or a guitar player, who can provide live entertainment at a lower price than hiring an entire band.
Alternately, you can look for smaller bands, hire a DJ, or — as we mentioned above — consider hiring a talented band that's still in the process of building its reputation. The key, however, is that you're thinking about how to have great music at your reception. Your guests will remember the wedding music for years to come, so don't skimp on having a great band or DJ hire who play tunes that will keep your guests dancing all night.