Done right, summer parties can be a ton of fun—casual and carefree in a way that other get-togethers (like your formal family Christmas party) can't pull off. You just have to set the stage right.
These seven tips will help you prepare and throw a great summer party outdoors—one both you and your guests will be sure to enjoy.
1. Easy-to-Walk-and-Chat Food
Your guests need to be able to move with their food, so don't serve anything super messy (like pulled pork) unless you'll be providing them with plenty of sit-down areas to eat. The best foods for a summer party are finger foods like slides, kabobs and appetizers that allow guests to mingle while they're munching.
2. Keep Them Covered
Summer showers have a way of springing up in the middle of even the sunniest of days, so make sure you've got somewhere for guests to take cover if it starts to rain (or if they want a break from the sun). Canopies, tents and umbrellas can provide dry, shady areas for guests seeking shelter.
3. Plenty of Seating
The more conversation areas you can set up, the more likely your guests will be to settle in and shoot the breeze. There are lots of ways to provide extra seating outdoors without having to rent or borrow chairs. From benches to decorative crates to ottomans that can also serve as a side table, make sure there are plenty of places for your guests to perch themselves (and their plates and drinks) as they mingle.
4. Set the Mood with Music
Music is a great way to set the tone for a party, whether you want to encourage intimate conversation or an outright dance-fest. If you don't have your own outdoor speakers, don't worry—if you hire a DJ or book a live band for hire, they'll bring any speakers and audio equipment you'll need. They'll also be able to match their music selections to the vibe of the crowd, which saves you the trouble of having to worry about playlists.
5. Mind the Wind
If the day of the party dawns and the wind is in high gear—or if you're hosting in a naturally breezy area, like on the waterfront—make sure everything is secured so guests won't spend the party chasing after flyaway items.
Use clamps to secure table linens and make sure loose items like your stack of napkins are weighted down. Using small stones as table decorations gives guests a means to secure their own plates and napkins while they eat.
6. Keep the Bugs Out
It's impossible to enjoy a party with bugs circling the scene. Keep your food covered so guests are the only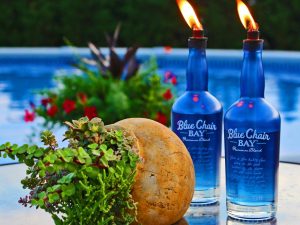 ones helping themselves. Set up bug lanterns and citronella candles throughout the party zone. Drape mosquito netting over open porches and sun decks so guests can enjoy the breeze and the view without being bothered. Citronella tiki torches make pretty decorations and provide extra light after dark while helping to shoo away winged visitors.
7. Lighting
Late sunsets and warm breezes mean that guests tend to linger long past the daylight. Make sure your party will be well-lit into the evening hours by setting up paper lanterns, candles and even strings of Christmas lights to create a festive ambiance that also lights the way.