Everyone may feel like a rock star after a couple of cocktails, but thanks to Karaoke, there is now a way to prove it. Re-create your very own Karaoke Bar at your personal or office Atlanta Karaoke Party using the talents of Norcross Karaoke DJ or Dunwoody Karaoke DJ.  It's a great idea for your next
corporate party entertainment
, especially at holiday time.  Team-building and ice-breaking enthusiasm lightens the mood with pure fun the result.
Karaoke started as an every man's singing art form in Kobe, Japan, in the 1970's.  And, everyone knows, it has remained popular throughout the United States and the world since. But most people do not know this noteworthy bit of information:   Karaoke was invented by Inoue Daisuke who neglected to patent his first "karaoke machine" design, consequently never reaping the rewards of his genius. Reportedly, Daisuke missed out on more than $150 million.  Daisuke was the first to figure out that businessmen wanted to sing to "tracks" with a microphone, amplifier and "8-track tapes" in specially-designed boxes. Filipino inventor Roberto del Rosario later developed a separate system called the "Minus-One," and he patented it in the 1980's. The name Karaoke – literally defined as "empty orchestra" – has since become a household word.  Today there are over 28,000 karaoke bars in the U.S.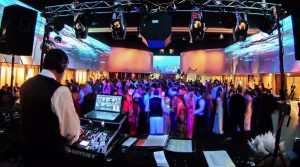 Take, for example,
Karaoke DJ-Roger
, pictured at left.  I have watched him transform the mundane corporate meeting into a fabulous party, with everyone kicking back after a day of meetings to have a blast!
So, let's get this party started!   Roger patiently takes requests as singers gather their courage to sing solo or in groups.  Roger has some 30,000 titles from which to choose, some of which are hand-assembled with professional polish.
The music is typically a well-known pop song minus the lead vocal, allowing the aspiring rock-star to sing to the background instrumental music.  Lyrics are usually displayed on a video screen, along with some type of moving symbol, like "the bouncing ball," to guide the singer. As the evening progresses, even the most timid singer finds his or her confidence boosted by the solid accompaniment of the background instrumental.   Duets or small groups will emerge, and the fun just keeps on happening.
Of course, there is always a hidden gem in every group who suddenly steps out of nowhere, grabs the microphone and wails a rendition of Carole King's "Natural Woman" or Taylor Swift's "We Are Never Ever Getting Back Together Again."  Throughout the room,  jaws drop and exclamations are heard like, "Did you hear that?" or "I didn't know she could sing like that!" Ultimately, everyone within hearing of the fun is delighted.
Karaoke DJ
s (or KDJs) take special pride in carrying state-of-the-art sound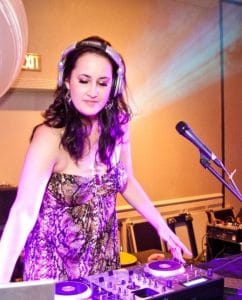 equipment and backup.  They need extra monitors, microphones and video screens for the singers and the listeners alike, and they bring with them all the equipment needed to make your party the best-ever karaoke event.  Dance floors and lighting effects are often common sights in karaoke bars, and these extra touches are also available to you for your private Karaoke Party.