Looking for some amazing ways to celebrate Christmas party this year? Here are a few things you must think of including in your to-do list to make the event unique as well as entertaining. Check out below:
Invite Mr. & Mrs. Santa Claus to your party! Whether it's an office party or family, this trend is quite in fashion nowadays. Both adults and children love to pose and click photos with them, receive gifts and cookies from them.
You like it or not, you simply can't ignore Christmas sing-along during the festive season. Get Christmas Carolers for hire to add traditional festive touch. Dressed up in traditional costume or your party theme attire, the carollers will entertain your guests with authentic and popular Christmas songs and music. The atmosphere created by them will take you to the ancient era, compelling everyone to join singing carols with them.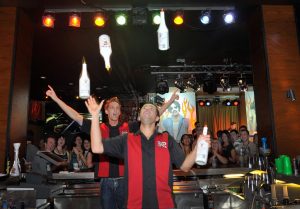 3.Essentially for an office party though, a flair bartending can be a great option for your private party too. A bartender is capable of providing extra dazzle and excitement to the customer's drinking experience,adding the perfect touch of festive entertainment. Let them serve some traditional drinks as well as the favourite cocktails or any customised drinks as demanded by the guests!
Hiring a professional storyteller is a great way to keep the little ones engaged in a party so that the adults get ample scope to enjoy the evening without worrying about their tantrums. They entertain children as well as adults with their Christmas classics and help to keep the festive mood on.
A party without rock or jazz music is simply lifeless. To keep it alive, get a live Jazz Band for hire to keep the guests tapping their feet all night. A jazz musical night under deemed light and with strings, drums and so, will make the party classy.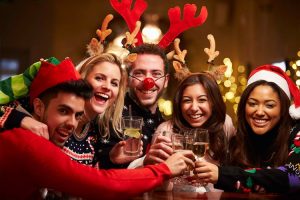 A Photo Booth is a quite popular option to add fun to your party. The guests would simply love to be clicked in different costumes of Christmas theme like Santa's costumes, beards or hats, reindeer with antlers etc. Keep a basket with different costumes and props and see the adults and children going crazy!
Live Entertainers will Add More Fun to Your Party
A live pianist-vocalist or guitarist will add to the entertainment element of your party. Apart from the popular musical entertainment options, non-musical entertainers too can make a great choice for your party, especially if your party guest-list features mostly kids. Stlitwalkers cum jugglers, comedians, magicians, caricaturists are some of the favourite choice these days. Find some of the top live bands, DJs, magicians and other entertainers for your party at Blue Sky Atlanta.
Booking for this year Christmas and New Year party is in full swing, so hurry up, else you may end up losing a great opportunity.