People looking for dream wedding ideas for a fall wedding may find this post useful as it will help them in planning a successful indoor wedding during autumn season.
As it will be an indoor event, the weather and temperature outside won't be a concern for you. But as it will be an indoor event, you have to plan well to create the autumn theme for your wedding inside the venue. You need some great ideas on how to bring nature and create the feel that you are having a fall wedding. Here are some tips that would help to bring the fall look to your event.
 Decorate with natural ingredients and Colors:
Wood:

Using simple wooden tables and chairs will give natural yet elegant look to the fall wedding inside the venue.
You may give a unique look to your wedding by decorating an arch made out of tree branches with seasonal flowers or leaves or even bright lights of your choice to give them a stunning look for the special occasion.
Leaves:
Using leaves for the decoration would cost you nothing and you just need to collect bag full of fresh, colorful leaves and bring them inside the venue to line them up along the aisle. Isn't that an amazing idea to bring fall feel to the wedding?
Pumpkins:
Using pumpkins for a wedding is an amazing idea, if you want to add something different and creative to your
indoor decoration. They are not only meant for Halloween party decoration but also make a great choice for both wedding decoration purpose and food. You may apply some colors or glitter sprays on this wonderful fruit and use them as vases, centerpieces or candle stands, to carve your initials into them or even to mark table numbers. Apart from that, there is an unlimited choice of seasonal food and cocktails of pumpkin available for the fall wedding menu.
Get professional Help:
Wedding day is the time to relax and unwind after a hectic planning period. Hence don't take stress for petty issues and leave everything to the professionals to take care of. From seating arrangements inside the venue, to decoration and food, book professional caterers, florists, photographers and decorators to make everything perfect as per the theme. Take some time out of your busy schedule to have a discussion on your vision about the special day and make sure that they put best of their efforts make to impress your guests.
An indoor wedding is just perfect for live entertainment. Hire an entertainment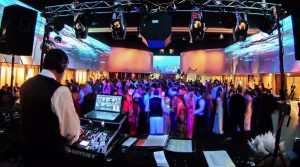 booking company who will provide you the perfect wedding band or wedding DJ for the event. They will also help to find space inside the venue for both the performers and the audience. You may go for a Bluegrass band, a cover band or live DJ who will put the stage on fire and keep the audience at the dance floor all night, moving at their mind-blowing tunes.
Last, but most importantly, it is the time when you should enjoy yourself no less than the guests as it is your special day. We wish you a wonderful fall wedding that is surely going to create the happiest memories of your life.