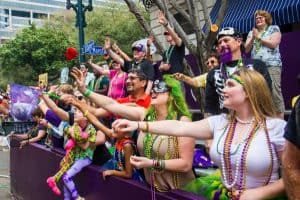 It's the Carnival season in many parts of the world, especially in New Orleans that is going to celebrate Mardi Gras, 'the most extravagant carnival on earth' on February 13, 2018.
We all have probably seen Mardi Gras Carnival pictures and seeing them most people grow a misconception that it's all about people dancing in the streets wearing bright colourful funky costumes and jewellery.
But what exactly Mardi Gras is all about and where and why it is celebrated? Let's go into some details:
Where and Why:
Mardi Gras is a French word which means 'Fat Tuesday', if translated in English and has a religious significance associated with it.
In France, the popular practice is to celebrate this as a holiday before Ash Wednesday to mark the beginning of a fasting season 'Lent' during which people
observe some religious obligations like not eating meat and any fatty food.
The same festival is celebrated in the Latin American and Caribbean Countries as well.
New Orleans in Louisiana,U.S.  is the best known place for Mardi Gras for the grand carnival it hosts during the festival season.
Mobile in Albama, U.S is believed to be the place where the first Mardi Gras was actually celebrated in the country.
In some countries like UK, Mardi Gras is known as 'Shrove Tuesday', which means the day of 'confess'. Roman Catholic Christian community take this opportunity to eat meat, pancakes and other fatty food made from eggs and butter that they give up till Easter Sunday.
Brazil Celebrates this as the famous food festival Rio de Janeiro's  where lively crowds in colourful costumes  hit the streets of Rio to perform local samba. The tradition dates back to 18th century and most tourists visit Brazil during this time.
However, the festival is most elaborately celebrated in New Orleans, where tourists from all over the world gather to join the carnival on Mardi Gras day and watch parades where participants wear special costumes and masks. You may also come down to the city during Mardi Gras 2018 and enjoy some great time with your dear ones.