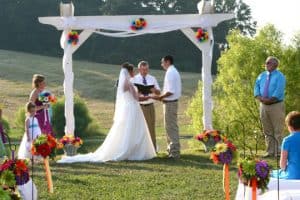 It's that time of year! The sun is shining, the evenings are warm and you naturally find yourself wanting to be outdoors. Whether it's Memorial Day, Fourth of July or you just want to throw a backyard BBQ, an outdoor party is a fun way to gather friends and family together. To help you prepare and throw a great summer party for both you and your guests to enjoy,  we've created a list of the most important (sometimes overlooked) outdoor party planning tips!
Outdoor Party Planning Ideas for Summer Events
Conversational Seating  
Summer parties create an opportunity to relax, catch up with family and friends and maybe even meet a few new people! To help create an environment for mingling, set up conversation areas for guests to relax with their drink and food and enjoy each other's company. There are plenty of ways to provide extra seating outdoors without having to rent or borrow chairs. Arrange benches, decorative crates and ottomans in a way that allows for easy interaction or for a casual gathering have guests BYOC. Include a note on the invitation asking guests to bring their own portable camping or sports chairs if they have them. Just be sure to have a few seating options available for friends who might forget or not have their own!
Portable Food For Easy Conversation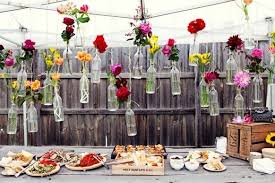 Build a menu of delicious foods that are also easily transported to allow guests to mix and mingle without risking spills. If you want to host a more formal party, just be sure to provide plenty of seating and tables for guests. For casual gatherings, we've listed a few of our favorite party food ideas below.
Place finger foods, candies and nuts or other loose snacks in paper cones.
Serve appetizers in bite size form or on skewers, such as grilled vegetable kabobs, meatballs or chicken satay.
Avoid messy foods like barbecue, chicken wings and soups.
Serve food in shot glasses with sauce at the bottom – works really well for eggrolls!
Set the Mood with Music
Music is a great way to set the tone for a party, whether you want to encourage intimate conversation or an upbeat dance party. If you don't have your own outdoor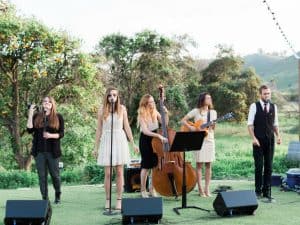 speakers, don't worry—if you hire a DJ or book a band for live music, they'll bring any speakers and audio equipment you'll need. They'll also be able to match their music selections to the vibe of the crowd, which saves you the trouble of having to worry about playlists.
Shelter From Sun and Summer Storms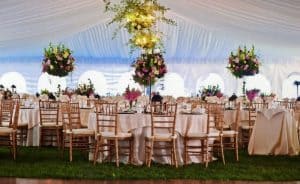 Summer showers have a way of springing up in the middle of even the sunniest of days, so make sure you've got somewhere for guests to take cover if it starts to rain or if they want a break from the sun. Canopies, tents and umbrellas can provide dry, shady areas for guests seeking shelter and are also a fun spot to add lighting for when the sun goes down! We'll talk more on outdoor party lighting later.
Don't Be Blown Away By Wind
If the day of the party dawns and the wind is in high gear—or if you're hosting in a naturally breezy area, like on the waterfront—make sure everything is secured so guests won't spend the party chasing after flyaway items.
Use double sided tape or Velcro to secure table linens and make sure loose items like your stack of napkins are weighted down. Using small stones as table decorations gives guests a means to secure their own plates and napkins while they eat.
Keep Bugs Off The Guest List
If you've hosted or attended an outdoor party you already know that a few uninvited flying guests are bound to make an appearance. Use the tips below to create a comfortable, bug free atmosphere for your guests.
Keep food covered so guests are the only ones helping themselves.
Set up bug lanterns and citronella candles throughout the party zone.
Drape mosquito netting over open porches and sun decks so guests can enjoy the breeze and the view without being bothered.
Citronella tiki torches make pretty decorations and provide extra light after dark while helping to shoo away winged visitors.
Outdoor Party Lighting
Late sunsets and warm breezes mean entice guests to linger long past the
daylight. Transition your party from day to night by setting up paper lanterns, candles and even strings of Christmas lights or patio lights to create a festive ambiance that also lights the way. Hang string lights and patio lights from tree branches, wrap umbrella poles or outline a canopy. You can also place candle lanterns on tables to provide ambient lighting and an inviting atmosphere for guests.
Have an outdoor party planning tip of your own? Share your idea on Facebook!