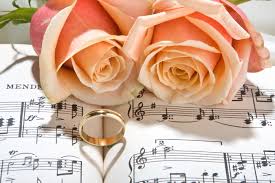 Nothing can wreck a wedding more thoroughly than truly terrible reception music.
We've all been there — sitting silently at our assigned tables, feigning interest in the centerpieces, while a nearly empty dance floor reigns supreme. (Or, worse, while a handful of guests halfheartedly dance to music they secretly hate, just because they feel bad that no one else is dancing.)
You only get one chance to get this right, so keep your big day from taking a big dive by handing your DJ or wedding band a "do not play" list, and try to steer clear from the following classic mistakes:
Songs No One (Other Than Your Aunt Edna) Likes
Just because most people expect these songs to appear, that doesn't mean the guests enjoy them. Here are a few songs that might cause people to secretly groan.
(Of course — if you personally LOVE any of these songs, play them! We're just throwing out a few ideas. It's YOUR big day, so pick the songs that you love the most!)
• The Chicken Dance
• The Hokey Pokey
• The Macarena
• The Electric Slide
• The Cha Cha Slide
• Shout
• Any other "group dance" or pre-assigned-moves song
Songs a Small Faction LOVES But Everyone Else HATES
You may get 2 or 3 people giving you a hard time you when the wedding DJ tells them these requests are on your blacklist. The other 100 guests will thank you profusely for sparing them:
• Save a Horse [Ride a Cowboy]
• Who Let the Dogs Out
• Achy Breaky Heart
• Vogue
• We Are Family
• Celebration
• Love Shack
• Brick House
Songs That Make People Want to Cry
Just because they're about love, that doesn't mean these songs belong at a wedding reception. The following breakup songs, super-sappy tunes and other mood-killers are nearly impossible to dance to, so just say no:
• My Heart Will Go On
• I Will Always Love You
• I Will Survive
• Wind Beneath My Wings
• You Are So Beautiful
• Candle in the Wind
• Butterfly Kisses
• Wonderful Tonight
Songs You'd Be Embarrassed to See Your Mom Dance To
There are some songs you can dance ironically to and have a great time. There are also some songs you just have to throw into the mix for your friends, even if they alienate some people on your guest list. Then there are some that are just plain awkward, for everyone involved. They include:
• Like a Virgin
• Too Sexy
• Mambo No. 5
• Baby Got Back
• Wannabe
Anything That Personally Makes You Shudder
This is your day, so you shouldn't have to listen to anything that makes you cringe. Let go of worrying about being a bridezilla (or groomzilla) and stand up for your preferences If you secretly abhor a particular artist or song, then you don't have to play it. This is your wedding, not a private dance club.
Bottom Line
Talk to your DJ or your wedding music band. Top-quality DJ's and bands, especially those with plenty of experience in performing at weddings, will understand that there are certain songs you don't want to hear. They'll work with you to develop a song list (or a do-not-play list) that will result in you and your guests having an amazing wedding reception experience.