Let's be honest: A wedding is one of the most expensive events you'll probably ever pay for. With sites like Huffington Post and TheKnot.com reporting the average wedding in the U.S. costs around $28,000, your big day is likely to cause a big dent in your wallet. But it doesn't have to be $28K big.
Before you resign yourself to a "happily ever after" spent pinching pennies, check out these super-simple ways to keep your wedding budget more in the reasonable zone:
Save the Date…for a Less Popular Time
Everything from the cost of a reception hall to the wedding flowers tends to be more expensive during peak wedding season—i.e., June through August. If you go for a less popular time, like having a "winter wonderland" wedding in December, you could save considerably on many aspects of your wedding.
(Here's an article about throwing a fall/autumn wedding.)
Opting for a Sunday through Thursday wedding, instead of the usual Friday or Saturday, can also equal big savings. Just make sure you have an early, afternoon wedding out of respect for everyone who has to work the next morning.
Choose the Friends & Family Discount
Chances are you've got some people in your inner circles with some wedding-related talents. Maybe your aunt is a fantastic baker, and she'd be honored to make your wedding cake. Maybe your old college roommate was a whiz with a camera, and his wedding gift to you can be to photograph your wedding's big moments.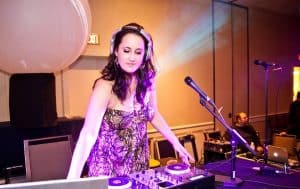 Think of how your friends and loved ones might be able to lend their unique skills to your wedding planning. Not only will it save you a pretty penny; your wedding will be that much more special for all the personal touches.
One thing you should NOT skimp on, however, is the music and entertainment. When people talk about your wedding in the years to come, they won't remember the flowers. They'll remember how much fun they had dancing at the reception. You don't want to entrust that to your nephew, your cousin, or your iPod. Agencies like Blue Sky Atlanta Music & Entertainment can help you find talented, affordable musical bands or DJ hire.
Skip the Banquet
Your wedding can still be amazing without a four-course plated dinner. Plenty of couples choose to break
from tradition with their reception food and serve everything from brunch to family-style buffets. As long as the food is yummy, your guests won't care if they don't get a filet-and-salmon medley. (Or at least, they shouldn't. If they're only there for the food, see the next tip.)
Keep It Small
Don't give into pressure to invite everyone you've ever met so no one feels left out. Your special day should be shared with those who mean the most to you, and chances are your father's business associates and your mother-in-law's hair stylist don't fall into that category.
By keeping your guest list intimate, you reduce the costs of everything from wedding invitations to venue size to reception food. Plus you avoid those awkward moments in the receiving line when Mrs. What's-Her-Name congratulates and you respond with, "How do we know each other, again?"
Don't Worry About the Joneses
When it comes to your big day, you call the shots. Don't add items to your budget simply because you think you ought to have them. No one said you have to spring for pricey floral arrangements if you couldn't care less about flowers. No one said the groom has to get a tux if he'd be more comfortable in khakis and a Hawaiian shirt.
Make sure everything you're paying for is something you really, truly want, not something you're getting just because you think a "real wedding" has to have X, Y or Z.