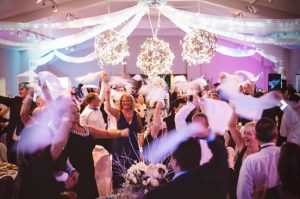 Planning for a wedding takes a meticulous amount of detail, including everything from booking the venue to making sure that the napkin color does not clash with the tablecloth. One of the most important features of wedding planning is picking songs for a wedding. The wedding playlist should reflect your taste but also include classical favorites for your guests. These songs for a wedding are perennial favorites.
Unchained Melody – Unchained Melody is listed as the number one wedding song of all time, and for good reason. First sung by the Righteous Brothers back in 1955, this tune inspired 500 different versions stretching across many languages. The film 'Ghost' re-popularized the song for a new generation, and it makes a great tune for the bride and groom's first dance.
The Power of Love – Celine Dion is known for love songs, including the cheesy My Heart Will Go On song from the soundtrack to the blockbuster film 'Titanic'. However, a song about one lover surviving while the other died does not set the mood for a wedding, which is why most brides pick The Power of Love. It's got all the vocal power of most Celine Dion songs combined with a sweet message of love and romance that strikes just the right mood for a wedding song.
I Will Always Love You – Whitney Houston will always be remembered for her powerful vocal performances. I Will Always Love You was first written by Dolly Parton, but Whitney created her own version for the film 'The Bodyguard'. This wedding song became one of the most popular singles of all time. Those who are going for a country themed wedding can use the Dolly Parton version while traditionalists can stick to Whitney.
I Don't Want to Miss a Thing – Looking to add a little bit of rock into a rolling wedding party? Aerosmith has the answer with their popular love ballad I Don't Want to Miss a Thing. This wedding song became popular when it was used in the 1998 film 'Armageddon' and though that movie didn't wow the critics, at least we got a good song out of it. This is a good choice as a first dance song for brides and grooms who want to take it up a notch.
I've Had the Time of My Life – Couples who want to outdo themselves can
choose this romantic song from 'Dirty Dancing'. Sung at the end of the movie, it featured the classic scene where Patrick Swayze lifts Jennifer Grey above his head. Brides and grooms can try and recreate this scene as they see fit and inspire their guests with this song for a wedding.
Unforgettable – Another classic wedding song that withstands the test of time because of its haunting melody and words, Unforgettable by Nat King Cole is one for the ages. The original song was written in 1951 and played at multiple weddings. An updated version turned the original tune into a duet sung between Nat King Cole and his daughter Natalie. This one can even work as a wedding song for the father and daughter dance.
Can You Feel the Love Tonight – Elton John's timeless love song leaves a lot of us weak at the knees. First written for 'The Lion King' perhaps the greatest of all Disney movies, this song is still number one in many people's hearts. It brings fond memories of childhood while also plucking on the heartstrings of anyone who has ever been in love. As a classic song for wedding entertainment, this one should fit into any playlist.
Click here to find a musical band or Atlanta DJ to perform at your Georgia wedding!