Wedding planning can turn even the most sensible of people into a ball of nerves. There's so much to decide on, so much to keep track, and so much pressure it's easy to go a little bit crazy dealing with it all.
Don't be one of those couples who dreams, midway through wedding planning with a John's Creek, Atlanta Wedding DJ, of just chucking it all and eloping. Keep your cool while staying on top of your to-dos with these tips:
Lists Are Your New Best Friend
There are a lot of moving parts to planning a wedding. To keep it all in order without getting overwhelmed,
you need to embrace your inner list-maker.
Working backwards from your wedding date, create a timeline that details when certain tasks need to be done by, like deciding on a Athens, Ga wedding DJ, getting your dress altered and sending out invitations. Putting your to-dos in order of priority will help you tackle them easier.
Create a detailed spreadsheet with your wedding budget items so you can track how much you've spent and how much you have left.
Create a "to buy" list so you don't forget anything you'll need for your big day, from big items like flower to little add-ons like a special leash for your dog who'll be serving as ring bearer.
You may once have laughed at those brides-to-be carrying around carefully color-coded wedding binders, but believe me, the more you organized you are, the happier you'll be.
Lean on Friends & Family
You don't have to go it alone. Your bridal party is there to help, and you can call on them for everything from assistance stuffing invitations to help setting up on the big day. You're not being a bridezilla of you ask them to spend a night making favors with you.
Your family is also there for you and can help take some of the pressure off your shoulders. If your mom loves gardening, she'd probably love to help you choose your floral arrangements (and may even be happy to make some herself). If your cousin is part of the local fashion scene, she may have some great suggestions for affordable bridal gown stores.  Your loved ones want to be a part of your special day, so don't feel bad about asking them for help.
Make Some "Me" Time
When you're in the throes of wedding planning, you can get stuck in a "go go go" mentality. There are so many things to check off and arrange that you start to feel like you could (and should) always be doing something.
But burnout never helped anyone, so make sure you set aside plenty of down time to get away from wedding stuff and recharge your batteries. Read a good book. Make a spa appointment for yourself. Sign up for a yoga class. Do something that will make you feel good.
You'll find that when you return to your to-do list, you'll be in much better spirits and decisions will be easier to make.
Make Some "Us" Time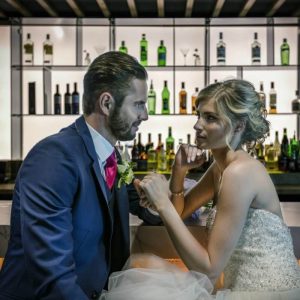 Hunching over seating charts and spending an afternoon cake tasting don't really count as couple time. The stress of wedding planning can cause couples to get irritated with each other and get into silly fights, which doesn't really make for much "happily ever after" enthusiasm. You don't want to get to your big day and think, "Well, thank goodness that's all over!" You want to thank, "Today I get to marry my best friend!" So spend plenty of time in the months leading up to the wedding reconnecting and remembering why you want to get married in the first place.
Schedule some fun-only date nights where no wedding talk is allowed. Recreate your first date to rekindle the spark. Go on a mini, overnight vacation if you just need to get away from everything.
Remember, all this planning is all about the two of you as a couple. So keep that bond front and center.