This is the time of year when the shopping for gifts starts to wind down and a brand new wedding season begins. Brides-to-be and their moms have a chance to sit down together and discuss their wedding plans over holiday dinner tables across Georgia. It is a very special time in young people's lives. My Dad was a violinist and so I have always had a soft spot in my heart for string players including duos, trios as well as quartets. Wonderful Atlanta wedding string musicians are all available to you through Blue Sky Atlanta Music & Entertainment.   
There are many group configurations to choose from for the effect you are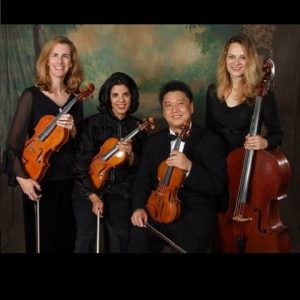 seeking. Cello and violin, cello; viola, cello, violin and viola; cello, viola and 1st and 2nd violin or flute as a fourth piece also make for very interesting combinations. But then, some groups are ruled by their arrangements and how the musical group is used to performing.
In general, there are more arrangements to choose from for string quartets than there are for trios. However both have more than enough arrangements for an given wedding ceremony and cocktail hour following the ceremony. An Atlanta wedding band that has enjoyed much success in the metro area the last several years is one with great talent, but also a great name – Amadeus String Quartet!
For pricing and availability please call 770.457.1955.