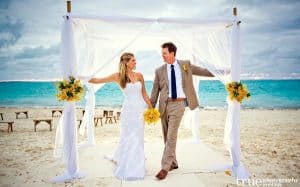 Options abound! Beautiful sites, near or far and to suit every budget, are plentiful. Seaside breezes,  mountain vistas, or rustic charms are yours for the asking.
And don't fall prey to the all-too-common and negative fears of limitations or obstacles in your path. With a little ingenuity, every situation has its own special solution. Contrary to typical thinking, for example, Beach Weddings do not  preclude the addition of a variety of musicians. Today's bride has a variety of musical choices for her perfect beach wedding.
According to statistics from The Knot, 25% of the brides in 2012 chose a destination wedding for their nuptials. And with today's mobile society, it is common for most of the family members to be required to travel to family weddings wherever it is held. Their trip to your
dream destination wedding
can become more of a "vacation" than a "chore" if the locale is an alluring one.
First, the bride and groom need to simply discuss their ideas of a dream destination.  Then the investigation process follows, and much of that can be done right from your own kitchen table, thanks to today's access to information via the internet. Review area resorts, hotels, and event venues to begin formulating exactly what it is you are seeking, then follow up with a few simple phone calls. Many hotels have an event planner on staff who can send you a package of information outlining the options they can offer.
Once you have narrowed the choice to one or two locations and gathered some general information, consider a brief visit to a couple of your favorite choices. To get a real sense of the the ambiance of a destination, nothing can be more beneficial than actually being on-site at your chosen location.
Regardless of your island paradise of choice — Jekyll Island, Sea Island or Hilton Head Island —  the next step is to reserve your selected event venue and book the entertainment and Atlanta musicians.  Wedding Planners can be expensive, and brides may find their limited budget does not permit that luxury. But you are not without a wise choice:  You will find your "new best friend," whose professional expertise can guide you in making selections, will be your personal contact in the entertainment industry. Blue Sky Atlanta Music & Entertainment Company, with more than 25 years of experience in the music and entertainment field, is ready to give you the benefit of its expertise and explain to you the many different choices available to you.
Today, it is possible to have a wedding harpist right on the beach or string players gathered on an overlook to the beach as guests arrive for the "prelude" part of the ceremony.   Strolling violinists, steel drums or even a real "Dixieland Band" may be also be easily considered for that special first class touch!
Click here to request a quote for your destination wedding entertainment in Georgia, including music bands, strings combinations, harpists, DJs and more!