Before Researching Wedding Musicians and Bands For Hire
Save yourself time prior to researching wedding music bands and musicians for hire in your area by narrowing your search. Start by answering these questions.
1. What is your wedding theme and what type of music would best fit your style?
Depending on your budget and preference, you may decide on one type of musician for the ceremony and another type of musician or band for your reception needs.
Popular Wedding Themes & Ceremony Music Ideas
Romantic – Harpist or Pianist
Classic and Elegant – String Quartet
Country/Rustic – Dixieland or Bluegrass Band
Popular Live Music Ideas for Wedding Receptions
Classic Rock Bands
Jazz Band
Wedding Bands
2. Does your venue have any restrictions on the type of music allowed?
Some venues, such as churches or historic locations have restrictions on the type of entertainment they can accommodate. Check with your venue prior to researching and hiring a wedding musician to avoid unexpected disappointment and last minute changes.  
3. What is your guest count and the size of your venue?
This is another topic you may want to discuss with your wedding venue or planner. If the reception space is small or your guest count is close to the maximum allowed for the space, adding a live band might not be realistic. However, your venue may have a solution to help you have the wedding music you want while still keeping your guests comfortable!
4. What is your budget for wedding music?
As with any aspect of planning a wedding, the budget is important. It is recommended that you put aside 10% of your budget to go toward your ceremony and reception music. Knowing how much you want to spend ahead of time will help to narrow your search and make choosing a wedding band or musician easier. If budget is a concern, consider hiring a one man band or a band that can accommodate your music needs for both ceremony and reception.
After You've Narrowed Down Your Wedding Musician Search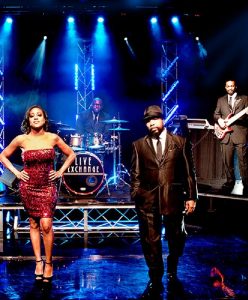 Don't Hire a Wedding Band or Musician without hearing them perform – either in person or via online videos.

Online reviews are great, but sometimes they can be misleading. Ask the musicians you are interested in for references so you can speak to a bride first hand about her experience.

Once you have decided on a wedding band or musician, book early and obtain a contract to include your wedding date and time, length of time they will perform, ceremony and reception location(s), and agreed upon rate. 
Plan out breaks and meals for your musician and make sure this information is included in your contract. If your musicians will be playing for several hours you should plan to provide them with a meal. After all, you want your wedding band or musician to be happy and not hungry! Speak with your caterer ahead of time to see if they can prepare a meal for your band and/or musician in advance and confirm that it will be available at the time of their break as discussed.

Ask your reception musician or band about overtime rates in the event that your reception runs late.

Determine who is responsible for obtaining and purchasing any sheet music if needed.

Talk about sound and lighting needs. Some venues will offer the option for you to use their sound and lighting equipment and while this may seem like a great way to save money, it may not be the best option. Check with your wedding musician to see if they have any specific sound and lighting needs and discuss the options with them.
If you're ready to start researching options for your wedding entertainment, Blue Sky Atlanta can help! Visit our hand-picked selection of the best wedding musicians and bands to find the perfect musical fit for your special day!