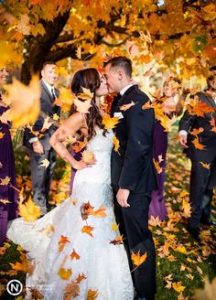 The secret of organizing a perfect fall wedding is to keep it simple. Be it decoration, food or entertainment, it is your innovative ideas that would fetch praise from your guests without spending a lot. You just need to book a good event entertainment company that will help in planning and executing the things on behalf of you so that you can relax and enjoy your big day.
Stick to the Nature
You may use the vibrant colors that nature offers during autumn season to give a
neat, simple yet classic look to your decoration.
To offset the colorful wedding decoration, you may consider using white string lights, round-shaped paper lanterns or iron lanterns of vintage-style.
Try to find some beautiful and inexpensive alternatives to rice for tossing like bubbles, sparkles, glitter, pom-poms and even paper planes. It not only makes the wedding photos gorgeous but also saves lives of the unsuspecting birds that often swallow up the rice once the ceremony is over.
Add Seasonal Flavor:
Add some seasonal touch to your wedding decoration to give it a unique look.
Pumpkin is a great choice for fall wedding decoration and to bring the desired look, you will need to put some final touches. The decor will vary depending on how classic or rustic look you want for your ceremony.
Bales of hay, natural wood, bright orange pumpkins, decorative gourds, burlap are some of the popular items that you can surely apply for a rustic wedding theme. To bring a classic look you can apply the
same but in a lesser amount. To give sleeker and elegant look to the centerpieces, apply paints on the pumpkins and decorate them in an attractive manner.
Keep pumpkin pies, desserts, soups, cocktails and other delicious items in your wedding menu to give perfect feel to the fall theme.
Live Entertainment
Atlanta being one of the favorite destinations for music lovers, bands and DJs are part and parcel of all celebrations including the social events. To make your fall wedding a perfect evening for the guests, hire a live Atlanta Band or wedding DJ to perform at the event. This will not only keep the guests entertained throughout the ceremony but also help in making the event stand out in the crowd. Celebrate a wonderful wedding this autumn and make the happiest memories for the rest of your life.