Georgia is an ideal place for a spring wedding. Being the capital city of the state, Atlanta offers plenty of dream locations for a spring wedding. The range includes several luxurious hotels, magnificent outdoor spaces and glorious historic buildings to celebrate your wedding in style.
It's a difficult task to choose that one perfect venue from so many wonderful places where your dream wedding would take place.
Here is a short guide to some of the highly recommended spaces in Atlanta which make perfect venues for a spring wedding 2018:
Twelve Hotels Centennial Park
Located near the historic Centennial Park of Atlanta, the hotel cum resort is an excellent choice for a wedding venue. Surrounded by breathtaking scenic view and conveniently located near downtown, the Twelve Hotels Centennial Park is an elegant and ageless spot that is sure to impress your guests.
Amenities:
 Catering service available
Alcohol is served to the guests
Maximum Capacity: 80 guests
Rental Fees: No rental fee except a nominal charge
Contact the venue owners to inquire on wedding cost.
The Peachtree Club
The Ballroom in Atlanta is a hot favourite spot among the wedding couples for its ideal location in Midtown Atlanta. The club's huge open air, elegant and spectacular Skyline Terrace makes this place perfect for a spring wedding reception.
Amenities:
Reception inside Indoor rooms
A gorgeously decorated dining hall
Max. Guest capacity:
(100-250)
Package includes food and beverages.
 Wireless Internet
Ballroom, Country Club, Rooftop
Bar + Drinks, Food + Catering, Planning, Service Staff
Carl House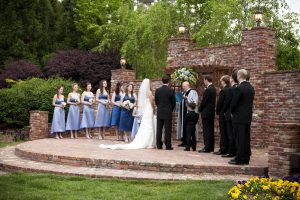 Whether you want a picturesque garden ceremony or a ballroom ceremony, Carl House offers everything to create perfect backdrop for a memorable spring wedding.
Capacity: 225 -500 guests
The facilities include:
Gorgeous Indoor weddings in the lavishly decorated ballroom 
Lush garden party
Luxurious Bridal Suites
Catering service
Floral service
 Wedding packages includes customized service, food, cakes, photography, and DJ or live music options.
Highgate Estate & Gardens
Tie your knot at Highgate Estate & Gardens, Atlanta. This timeless, beautiful space with a rich historical background will be the ideal spot to cherish your special moments through a grand celebration. The place offers everything including outdoor spaces, an in house bar, dance floor,  a beautifully lightened atmosphere to turn a formal wedding into a fun-filled event.
Capacity
(150-175) guests
Services:
Indoor/Outdoor Ceremony
 Indoor Reception
Catering and Alcohol
Rhodes Hall
The vintage Atlanta landmark of early 20th century is amongst the most unique and classic venues for a dream wedding.
The Victorian styled floors and grandness of the entire interiors add to the massive look of the venue that also offers a Bridal Suite on the 2nd floor.
Capacity: (75-150) guests
Indoor/Outdoor Ceremony & Reception
Catering
Alcohol
If you are planning for a wedding in a traditional style but without compromising the modern conveniences, these places are perfect to fulfill your desire.
Share your dream wedding ideas with us at Blue Sky Atlanta Music and Entertainment co. and we will provide you with the best wedding entertainment ideas for your wedding ceremony and wedding reception!