Your wedding involves a lot of planning, from hiring your DJ to arranging deliveries with the florist to giving the reception venue the final headcount.
But there's one key component of planning you may be forgetting — keeping your bridal party clued in.
In order for your big day to run smoothly, you have to keep your bridesmaids and groomsmen informed and on the same page about some key details. Make sure your bridal party knows everything they need to with this checklist:
1. Who's in Charge of What
Your bridal party's only task isn't to stand up with you and look pretty—although you can certainly keep it to that if you want. They're all close friends and family you've chosen because of their special relationship with you, and they'll want to help out in any way they can. Consider ways they might be able to take some of the pressure off of you and contribute to the planning and big-day details.
Key jobs you can assign to your bridal party include:
• Helping assemble wedding favors, programs, etc.
• Decoration and setup
• Running day-of errands (like buying an extra undershirt for the groom who forgot to pack one)
• Serving as ushers (typically a groomsmen duty)
• Handing out programs before the ceremony (also typically groomsmen)
• Gathering presents, guest book and other items after the ceremony and reception
• Getting the party started if no one's on the dance floor with a Sandy Springs, Atlanta Wedding DJ waiting his cue
• Driving the newlyweds to their hotel or the airport after the wedding
2. What They Should Look Like
It's up to you whether your bridal party has a say in what they wear or whether they'll need to adhere to guidelines you've set for them, but whichever way you decide to go, make sure everyone is clear on exactly what they'll need to look like.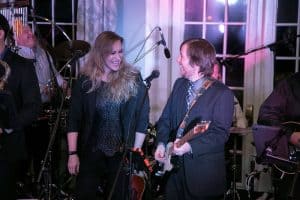 For bridesmaids, this includes accessories like jewelry and hair pieces, shoes, and whether they're in charge of their own hair and makeup. For groomsmen, this includes shoe style, details like ties and pocket squares and whether they'll need any special accessories (like a hat, fun sneakers, etc.).
Don't forget to also let them know of any dress codes for wedding-related events like the rehearsal dinner.  A Roswell, live wedding music bands might be a great idea for this event, too.
3. What Everything Will Cost
While you can take steps to limit the cost, being a member of a wedding party still carries with it certain financial responsibilities. Make sure everyone understands, before they agree to participate, precisely what expenses they'll be incurring.
This can include:
• Bridesmaid dresses / groomsmen tuxes
• Accessories
• Hair and makeup
• Travel and hotel expenses
• Bachelor / bachelorette party
• Any pre-wedding activities (like a spa day for the ladies)
• Post-wedding brunch (if you're having one)
4. Where They Need to Be When
As soon as you can, provide your wedding party with all the details they'll need to clear their schedules for the wedding. Will you need them to fly in a few days early to participate in group activities? When will the rehearsal dinner be? Also be sure to give them plenty of advance notice for key events like the shower and bachelorette party.
When you have your rehearsal dinner, make sure to not only go over the form of the ceremony (processional, readings, etc.), but to provide your wedding party with printed-out schedules for the big day. Make sure they know where they need to be for key stages (hair and makeup, photos, etc.) and when.
5. A Special Note for Maid of Honor/Best Man
Your maid (or matron) of honor and best man have some additional duties beyond those of the rest of the
wedding party. These can include:
Maid of honor:
• Planning and throwing the bachelorette party
• Hosting or helping to arrange the bridal shower
• Taking note of present received during the shower
• Collecting ribbons during the shower and creating a "bouquet" for the rehearsal
• Helping the bride dress
• Holding and arranging the bride's train during the ceremony
• Holding the bride's bouquet during the ceremony
• Signing the wedding certificate
• Giving a toast
• Keeping an "emergency kit" with things like safety pins and stain remover for the bride
Best man:
• Planning and throwing the bachelorette party
• Holding the rings for the ceremony
• Signing the wedding certificate
• Delivering final payments to vendors
• Giving a toast
• Making sure rented tuxes are returned in time