If you're deep in the throes of wedding planning, chances are you're feeling a bit overwhelmed. From exhaustive wedding site checklists to wedding magazine articles obsessing over the tiniest details, the sheer volume of things you're "supposed" to have can feel overwhelming. But the good news (for your budget, and for your sanity) is that many of them are totally slash-able.
When it comes to your big day, there are certain things you don't want to skimp on. Good, quality food (whatever you decide to serve) is something your guests will remember long after they go home. So are the wedding DJs playing great tunes that really get the party started and get everyone on the dance floor.
But beyond that? It's all relative. Your wedding should only contain the things you feel it "has to have." Consider these typical wedding elements that can easily be left out:
1. Crazy Floral Decorations
If you're a nature lover, then by all means, invest in some gorgeous bridal party bouquets and deck out your reception with floral arrangements. But if you're not? You can absolutely cut back on this (often pricey) budget category.
If you want a little nature, skip the jewel-encrusted roses and consider simple bouquets made of wildflowers or Gerber daisies tied with ribbon. If you couldn't care less about flowers, make cute DIY bouquets out of old broaches, feathers or anything else that fits your theme. Your centerpieces don't have to be towering arrangements, either; they could just as easily be a few simple buds in a vase or an array of votive with petals (real or fake) spread around them. Simpler is better, anyway, as no one likes having to crane around a huge vase in order to talk to other people at the table.
2. Standard Traditions (and the Stuff That Goes With Them)
The wedding industry loves to provide couples with all sorts of engraved and customized things that will be used only once and then promptly forgotten.
You do not have to buy a special engraved cake cutter in order to cut your wedding cake; your venue or caterer will be happy to provide one, or you can buy a cheap one you can take home and use afterwards for birthdays. You do not need special toasting flutes with your wedding date on them in order to raise a toast at your dinner—you can just as easily raise the glasses your venue provides and save the money you'd spend on a custom set you'd never use again, anyway.
You don't have to have a garter toss if you're sick of seeing them or if the thought of someone hoisting your dress up in front of your friends and relatives makes you queasy. Do your big day your own way, and don't let the checklists tell you otherwise.
3. Fancy Favors
Too many couples spend way too much time and money trying to come up with elaborately creative favors
their guests will just throw in the everything drawer when they get home—or won't even take home at all. Save yourself the time and money by keeping it simple and skipping the wine stoppers engraved with your initials. (Let's be honest: Who besides you would even care?)
Guests tend to love the simplest of things, with edibles like chocolate and flavored nuts topping the charts. Wrap them in your wedding colors and leave it at that. Or, skip the favors altogether and provide your guests with other freebies that will make your wedding more fun for them, like flip flops for the dance floor or a disposable camera they can use throughout the night.
4. Programs
If guests will need a little help to understand your ceremony (it's in another language or they may not be familiar with your religious traditions), then a program can be a helpful addition. But if you're just going to have a few readings and say your vows? Skip the fancy programs and let guests simply enjoy the experience. Having a list of procedures won't add anything.
5. An Expensive Dress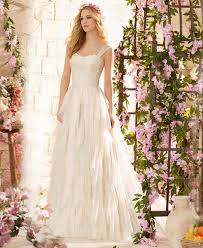 Gasp! But isn't the dress one of those big things everyone will always remember? Yes, but that doesn't mean you have to break the bank on it. If you're having a low-key, outdoor wedding, consider a beautiful sundress or cocktail dress instead of a chapel-length gown. If you do want the full bridal effect, shop the sample racks, keep an eye on sales and consider purchasing or renting a used dress.
You can get just as much wow factor with a little creativity, and you won't have to blow half your wedding budget on a dress to do it. Instead, you may invest the money in hiring a professional event entertainment company that will mark the event as special one to cherish forever!