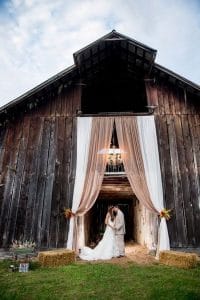 You're throwing a down-home country wedding — but you want it to stay classy.  This list of great songs, both new and old, will help you evoke that Southern charm and flavor without getting cliched.
There's no "Achy, Braky Heart" or "Save a Horse, Ride a Cowboy" listing here – just classic country songs for a classy Southern wedding entertainment.
Pre-Ceremony
"Hey Pretty Girl" – Kip Moore
"History In The Making" – Darius Rucker
"Love, Me" – Collin Raye
"Love Story" – Taylor Swift
"Making Memories of Us" – Keith Urban
"She's In Love With the Boy" – Trisha Yearwood
"She Said Yes" – Rhett Akins
"When Love Finds You" – Vince Gill
"Yes!" – Chad Brock
Processional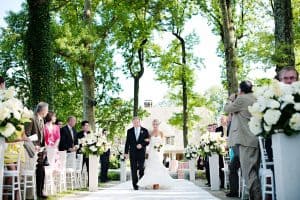 "Can't Help Falling In Love With You" – Elvis Presley
"Grow Old With Me" – Mary Chapin Carpenter
"Love Of My Life" – Sammy Kershaw
"Me And You" – Kenny Chesney
"To Make You Feel My Love" – Garth Brooks/Trisha Yearwood
"Valentine" – Martina McBride
"Walk Through This World With Me" – George Jones/Tammy Wynette
"Your Love Amazes Me" – John Berry
During the Ceremony
"Better Man" – The Warren Brothers
"From This Moment On" – Shania Twain
"Just You And I" – Crystal Gayle & Eddie Rabbitt
"Keeper Of The Stars" – Tracy Byrd
"Marry Me" – Train and Martina McBride
"Your Everything" – Keith Urban
"When You Say Nothing At All" – Keith Whitley/Alison Krauss
"You Had Me From Hello" – Kenny Chesney
"You Make It Look So Easy" – Eric Church
First Dance
"All My Life" – Kenny Rogers
"Always Have Always Will" – Blackhawk
"Amazed" – Lonestar
"Belongs to You" – Emerson Drive
"Could I Have This Dance" – Anne Murray
"I Cross My Heart" – George Strait
"I Do (Cherish You)" – Mark Wills
"It's Your Love" – Tim McGraw & Faith Hill
"God Gave Me You" – Blake Shelton
"Look At Us" – Vince Gill
"Lost In This Moment" – Big & Rich
"Me and You" – Kenny Chesney
"My Best Friend" – Tim McGraw
"She's Everything" – Brad Paisley
"Then" – Brad Paisley
"'Til I Loved You" – Restless Heart
"You Are" – Jimmy Wayne
""When I Said I Do" – Clint Black & Lisa Hartman Black
Father/Daughter Dance
"Daddy Dance With Me" – Krystal Keith
"Daddy's Hands" – Holly Dunn
"He Didn't Have To Be" – Brad Paisley
"I Hope You Dance" – Lee Ann Womack
"I Loved Her First" – Heartland
"In My Daughter's Eyes" – Martina McBride
"Just Fishin'" – Trace Adkins
"My Little Girl" – Tim McGraw
"Stealing Cinderella" –Chuck Wicks
"There You'll Be" – Faith Hill
Mother/Groom Dance
"Don't Blink" – Kenny Chesney
"It's Your Song" – Garth Brooks
"Mama's Song" – Carrie Underwood
"My Wish" – Rascal Flatts
"Never Alone" –Lady Antebellum
"That's What Mamas Do" – Jason Matthews
"The Dance" – Garth Brooks
"Then They Do" – Trace Adkins
"Through The Years" – Kenny Rogers
Don't Forget!
You don't want to play your iPod at your wedding. DJ hire is always recommended
who can work with a top-notch sound system, play music that matches the mood of the crowd, and handle all of the details about your sound, music and entertainment on your big night.
Blue Sky Atlanta Music & Entertainment can help you find the perfect DJ for your big day. Don't worry – you might associate DJ's with electronic music or club beats, but in reality, great DJ's can work with a wide variety of music. Call Blue Sky Atlanta Music & Entertainment, tell them you want a classy country-style wedding, and ask them to connect you with an amazing DJ who can keep your guests dancing all night long.