Few brides set out to have both a great dance Band and a terrific Disc jockey appear for their wedding entertainment. When the night goes as well as it did last Sat. Aug. 21, 2010 at the Atlanta History Center, what's not to like? Everybody's happy! And, it may be the way to go for you.
Scott and Tasha commissioned Blue Sky Atlanta to handle all the entertainment for their wedding and we were glad to accept the responsibility.
It is, without doubt, the best of both worlds when done right. It is all in the planning coordination and the party can be seamless. In this case, we invited harpist Missy Wood and violinist Vlad Yampolsky for Tasha's ceremony in front of the historic facade and cascading fountain of the beautiful The Swan House. They did an outstanding job for us, too!
For cocktail hour in garden following the ceremony, musician, bandleader, Jim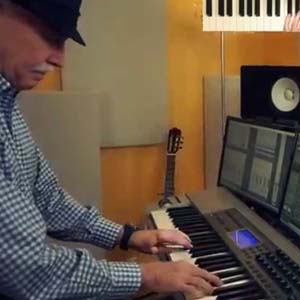 Tiernan, played his electronic keyboard. When the guests arrived back at the beautiful History Center's Grand Ballroom, Jim's band – Atlanta wedding music band favorite,Blue Sky, provided the backdrop for a great evening of music with 90% of the songs selected by the bride and groom. The Special dances followed as Jim took over the role as M.C. announcing the Bridal party into the room.
From Sinatra and Neil Diamond to Norah Jones and Van Morrison – the Blue Sky Band took the night to another level and the dancing began. As soon as the cake cutting song: Elvis Presley's, "I Can't Help Falling In Love with You" was sung by Jim, the band gave way to Dj-Michael who took the party to an even higher level from the Black-Eyed Peas to Michael Jackson.
This was a great night of entertainment! And, it does not have to cost an arm and a leg. Contact Blue Sky Atlanta and we'll explore the perfect wedding options for you!