What songs should be on your wedding music playlist? Why?    Here are some tips to help you create the perfect playlist for your wedding.
#1: Plan songs for specific dances
Whether you hire a wedding DJ or decide to do your music via your iPhone, choosing the right music is important. You should include music for your first dance, father-daughter dance, mother-son dance, and music to dance to throughout the ceremony. Of course, there are literally thousands of songs to choose from so it is completely up to you. A DJ who has worked hundreds of weddings can help you find the songs that get guests dancing.
#2:Include classic dance songs in your playlist.
Your Atlanta wedding music should include songs that everyone will enjoy. If you
really want your wedding to be an event everyone remembers then get them on the dance floor with classic dance songs like the Cha Cha Slide and even the Chicken Dance.
#3: Make your playlist smooth.
Choose both fast and slow songs for your guests to enjoy instead of focusing only on certain songs. If you want guests to dance the night away make sure that every few songs is at least semi mellow so they can slow dance with each other. Don't let dead air come between each song either so that it doesn't feel awkward at the end of the song.
#4: Don't forget about each age group.
If you are having different age groups at your wedding then consider them when you are designing your playlist. Consider classic songs the older folks can enjoy and dance to and also young hip-hop songs the younger crowd will enjoy.
#5: Give the DJ your playlist.
  Put a DJ in charge of spinning your playlist, since he'll manage the transition between songs, fade the volume up or down based on the atmosphere, transition into the cake-cutting, and overall manage the music and mood of the reception.
#6: Make sure your playlist includes dancing music.
The last thing you want to do is have 200 songs to choose from but all horrible to dance to. If you include all kinds of music from every genre your guests will surely find something awesome to dance to. Just be sure to include it in the first place!
#7: Remember your playlist sets your wedding tone.
The music you play at your wedding is a direct reflection of who you and your groom are, and when the dancing starts people will be excited to see what you have in store for them. Start the night out right by playing a high energy dance song after the traditional dances are completed. A DJ can organize your playlist into timing that will get the guests excited about dancing.
#8:Include your favorite songs.
This may go without saying, but don't get so caught up in catering to your guests that you forget to include the songs that say the most about you and your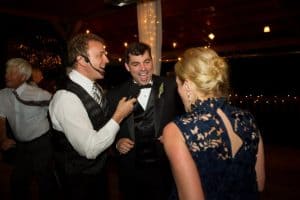 groom. Don't avoid them simply because they may not be dancing material we are sure you will find a way to make the songs fun and enjoyable for your guests as well.
Click here to book music for your Atlanta wedding entertainment!