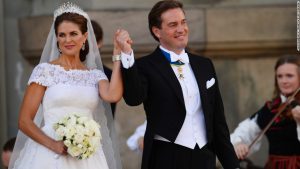 About to walk down the aisle? Here's advice for brides before their big day.
1. Remember that not everything will go perfectly.
Brides are traditionally stressed out worrying about every little detail to be perfect. But it is almost inevitable that something will go wrong. It could be a thunderstorm, a rainy day, the cake showing up late or the flower girl screaming all the way down the aisle. Regardless, it is still your day and you still love your husband.
2. Relax and enjoy your day.
This can be hard especially before the ceremony. Most brides are wrecked with nerves about getting married and making everything perfect. But once the day is here there isn't much else you can do to change how it will go. So sit back and enjoy the day.
3. Play with your groom.
When you cut the cake smash it right into your groom's cake for an enchanting and cute photo op. It will also provide you and your guests with a memory to last a lifetime. Flirt and be romantic with your new husband, it will make the day so enjoyable. Arrange for some good wedding entertainment playing romantic tunes for both of you and also to keep the guests entertained during the event.
4. Children are a miracle, but can be a disaster.
Even though you love your little niece and nephew there is a good chance they could end up running around your wedding wrecking havoc. Don't stress. Look at it in a positive light they are creating memories for all your guests.
5. There's a good chance non-invited guests will show up.
Even though you took the time to meticulously plan every invitation friends of friends may show up and crash your wedding. Don't stress over this but instead prepare mentally for it in advance.
6. Celebrate your husband and your family.
Your wedding day is the most important day in your life, one were all the important people in your life come together in one place. How often does this happen? Take time to enjoy your family and thank them for coming to your wedding.
7. Go easy on the perfume.
Many brides think they need to drown themselves in smelly perfumes to prepare themselves for the day ahead. But in reality these perfumes can present a host of problems like nausea and lovely insect bites. Instead use small amounts throughout the day to smell lovely and stay insect free.
8. Drink plenty of fluids.
This is especially important if you are having an outdoor summer/fall wedding. Many brides don't account for how hot a wedding dress can be. If you have a long ball gown dress then look to be extremely hot during your wedding. Drink water before the ceremony starts and during the reception to avoid fainting.