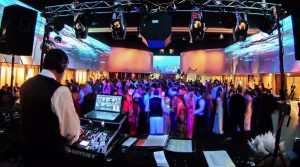 Some DJs are so energetic that the people listening to them perform just can't resist the lure of dancing. Other DJs struggle to get anyone onto the dance floor.
When you choose the DJ for your Atlanta wedding, you want someone who falls into the first category, not the latter. There are several qualities that make a great wedding DJ stand out from a mediocre one.
Music Mixing – The Atlanta wedding DJs job is to mix music. Many professional DJs attend training classes to learn how to use their equipment, but the artistry of mixing music cannot be taught in a classroom. Ask if your DJ has a set-list of his mixed music available. A good DJ is always willing to give out samples of their work. Listen to it and see if the mixing style appeals to you.
Music Style – DJ's can play any music you want to hear, but some prefer a
certain style of music over others. An Atlanta wedding DJ who acts as a hype man, for example, will use loud dance tracks to get people on their toes. If you are going for a more subdued approach, though, you might want to find a DJ who's comfortable with softer or more classic beats. Blue Sky Atlanta Music & Entertainment can help you figure out which DJ's style is best for you.
Presentation – Most Atlanta wedding DJs adopt a stage presence when they play at clubs or weddings. This larger than life persona tries to motivate people onto the dance floor while acting as an emcee all at the same time. Of course, many professional DJs tone down their stage persona when they play at a wedding, since a good DJ always knows how to play for the appropriate crowd.
Professionalism – How does the DJ appear when he or she is talking to you? A professional Atlanta wedding DJ understands that this is your big day and wants to ensure that it will be one you look back on with fond memories. Pay attention to how receptive the DJ is to your ideas and concerns.
Wedding Experience – DJs will often say that they have years of experience, but if they spent all that time playing for clubs, they don't have any real wedding experience at all. Weddings are different venues than club gigs, and a good Atlanta wedding DJ knows this. It is more important to hire a DJ who only has two years of experience but played at dozens of weddings than one who has five years of DJ experience but has never played at a wedding.
Fortunately, Blue Sky Atlanta Music & Entertainment works with a long list of DJs who have specifically performed at weddings, not just clubs.
References – Good Atlanta wedding DJs who know they've done an
outstanding job for their clients in the past are more than happy to give you a list of references. A DJ who is reluctant to give references, on the other hand, may be trying to hide something. Blue Sky Atlanta Music & Entertainment can help you find a wedding DJ with very solid references and recommendations.
Never chose a DJ who insults their past clientele either. Not only is this unprofessional, you never know if a few months down the road, the DJ will be saying the same thing about you to an unsuspecting bride and groom. Don't worry — the wedding DJs that you'll find through Blue Sky Atlanta Music & Entertainment are vetted for professionalism and courtesy.
Click here to ask Blue Sky Atlanta Music & Entertainment to help you find a great wedding DJ for your wedding!