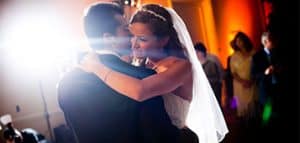 Your Atlanta wedding DJ brings the beats and keeps the reception going into the morning. Don't leave this important job in unskilled hands. Make time before your wedding to chat with your prospective DJ about your wedding plans. The DJ who best fits your needs is the right one for the job.
1. Communicate. It's amazing how many brides, grooms, and DJs don't talk until the day of the wedding. If you only talk to the DJ through email, you aren't meeting the whole person. Ask the Atlanta wedding DJ for a time when you could meet face to face or speak on the phone. Blue Sky Atlanta Music and Entertainment can help you find a professional DJ who will be happy to discuss your dream wedding.
2. Song Selection. Atlanta wedding DJs have their own collection of songs, but
that doesn't mean you have to settle for whatever they choose to play. Use your time in the meeting to work out a setlist. Know what you want to play during your first dance, and tell the DJ what songs you don't want to hear. A good DJ will listen to you and also make recommendations based on your musical tastes.
3. Playing Style. Atlanta wedding DJs work more than just weddings. Many have secondary jobs in clubs or other venues. A professional Atlanta wedding DJ knows how to tailor his job to the event. If you want a rocking wedding reception, then discuss this with your DJ. If you're going for a subdued vibe, then the DJ should adapt his style. Again, it is crucial to have a personal interview with your Atlanta wedding DJ so that you can see if his style meshes with yours.
4. Venue Experience. Previous wedding experience is crucial, but don't overlook venue experience either. Most DJs in Atlanta have played at popular reception halls before and know how to set up for them. If they haven't, make sure the DJ is able to visit the site before the wedding day. The last thing you want for your reception is a big delay while the DJ struggles to set up his equipment in an unfamiliar venue.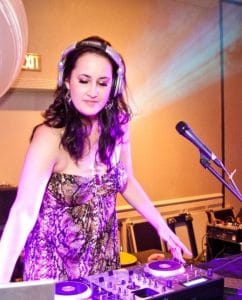 5. Technical Equipment. Speaking of equipment, you want to make sure your Atlanta wedding DJ knows how to use his. Ask a few questions about how to handle room acoustics or music mixing, and see how the DJ responds. If he seems to know what he is talking about, then he knows his stuff. Getting flustered, on the other hand, is a bad sign.
6. Written Contract. Professional wedding DJs always work with written contracts. At the end of your interview, make sure your contract includes everything that you discussed. Blue Sky Atlanta Music and Entertainment can supply you with a through contract that protects your interests. They'll also provide a back-up DJ in case of emergencies.
Request a Quote for a Fantastic Atlanta DJ to perform at your wedding!