Why should you choose a wedding DJ? And how do you choose a great one? Check out these tips for your wedding day: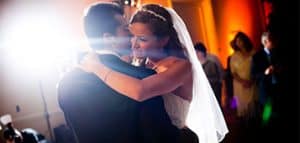 1. A wedding DJ makes for a stress-free reception. The last thing you want to worry about on your wedding day is making sure that the music sounds good. If you hire a wedding DJ you won't have to worry about that at all. The music is pre-recorded and is very unlikely to face any hiccups along the way.
2. There is a pre-set playlist. DJ's allow you to give them a set list of songs you want played at the wedding. If you hire a good wedding DJ they will ask for your favorite songs and will be sure to play them throughout the wedding. Additionally you won't have to worry about "R-rated" music being played that could offend your guests.
3. There is little to no coordination needed on your part. Wedding DJs have all the equipment that is necessary to make the reception run smoothly. They're experienced at performing at weddings, so they don't need to be micromanaged and they don't need to be given too much direction. They're professionals who can get the job done with minimal oversight.
4. You can always add music to your playlist. DJ's have an endless supply of music at their fingertips, and if you forgot to request one song you just knew had to be played at the wedding, do not despair. Your DJ more than likely has it in his computer.
5. DJ's bring more than just music. Most wedding DJs include lights that set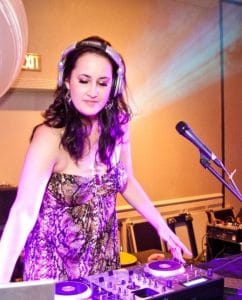 the mood for the party. Some even include a karaoke machine. They are all in one entertainment and work their hardest to get everyone out on the dance floor having a good time. They are professionals and most have done hundreds of weddings across their career. Experience coupled with the right equipment makes for the perfect reception!
6. DJ's guide your guests through the wedding. In addition to playing music and setting the mood, most DJ's tell people when to get on the dance floor, what is going on during the reception, and are also responsible for introducing the couple for the first time. All of this is important, and pretty much impossible without a DJ.
7. They amp up your guests. If you want your wedding to be a party, then a DJ is the way to go. They have the charisma and passion to make your guests have a great time. Because let's face it, after the ceremony is over all you are going to want to do is party.
8. A DJ can make your wedding day easier. If you don't have a wedding planner, then a DJ is absolutely necessary to keep everything moving along smoothly throughout the wedding. Imagine trying to run your iPod to make sure the mood is set for dinner, then run back to cut the cake, then go back to change the song to the first dance. It's ridiculous! You have to have someone in charge, and a wedding DJ will fit the bill nicely.
Click here to find great entertainment and music — including Atlanta wedding bands and DJs for your wedding !