When wedding guests think back about your nuptials, what memory stands out the most? A national poll found that 81% of wedding guests remember the reception most.*
The right entertainment either makes or breaks a wedding party. That's why there are several reasons why hiring a professional DJ is worth the cost.
#1. Professional Expectations 
The biggest advantage to using a wedding DJ is that he or she is a professional. DJs can read the crowd like an iPod never could, and they can adjust the music to fit the moment. Not enough people on the dance floor? A professional DJ knows tried-and-true songs that get wedding guests out of their seats.
#2. Mammoth Music Library 
Nobody beats a DJ when it comes to music selection. A live band is limited in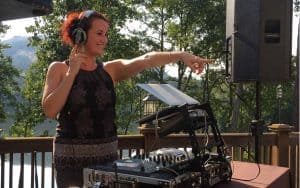 how many songs they know; an iPod is limited by its storage drive. Professional wedding DJs have access to thousands of different songs spanning all musical eras. Whether you want to hear 'Somewhere Over the Rainbow' during the father and daughter dance, or whether you want to move to the hottest tracks, use your DJ to help pick out the right tunes. A good wedding DJ listens to what you want and selects songs that meet your musical tastes.
#3. Big Sound 
There is a world of difference between professional sound equipment and a pair of speakers used at home. Wedding DJs bring their own sound systems and they know how to set up for the best acoustics. No iPod or amateur DJ can match what a professional owns. While a novice DJ may have equipment that looks impressive, chances are that he or she doesn't know all the controls. Blue Sky Atlanta Music and Entertainment, on the other hand, can help you find a wedding DJ who has fantastic sound equipment.
#4. Flexible
A wedding DJ can work around your schedule. A DJ can come early, if needed. If you think your guests want to party past midnight, you can ask Blue Sky Atlanta Music and Entertainment to put you in touch with a DJ who is willing to stay late.
#5. Extra Savings 
Professional DJs are generally cheaper than a live wedding band. Musical groups have more members, which means you may need to spend more money to pay them all. A wedding DJ, by contrast, typically works alone.
#6. Disaster Protection
Novice DJs don't belong to professional networks, and if there's an emergency
on your wedding day they can leave you high and dry without a replacement. If a Professional DJ gets sick, however, Blue Sky Atlanta Music and Entertainment will make sure that a qualified, talented replacement DJ performs at your wedding. No last-minute cancellations without a replacement: That's part of their service promise.
Furthermore, an iPod could break. You don't have a Plan B if that happens. A wedding DJ, however, is prepared for equipment failures. They've designed a plan that can save your wedding reception in the event of any technical disasters.
Click here to request a quote for your Atlanta wedding DJ!
*Source: Statistic published in St. Louis Bride & Groom