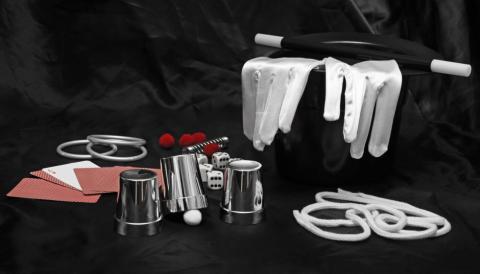 The main focus of a wedding is, of course, the bride and groom. The day is all about them and how they're beginning their lives together in celebration.
But, after the ceremony and during the wedding reception, it's all about the guests having a great time. If you're planning your wedding entertainment for your big day, why not hire a magician?
While a live band or wedding DJ is great for getting people moving, a magician is a unique act that can leave a memorable impression.
Do you need further convincing? Keep reading to learn the benefits of hiring a magician for your special day.
1. Keeps Guests Occupied
A magician working a magic show can capture the attention and gaze of your guests of all ages, so you don't have to worry about keeping them occupied as you go off to take photos.
Sometimes guests are left on their own following the ceremony, and for many, this can be the most boring part of the day for them. Hiring a wedding magician can give your guests an entertaining wedding experience that they'll remember.
2. Brings the Fun Factor
Likewise, a magician can bring fun wedding entertainment to the table. A wedding magician can dissolve any awkward silences or shyness by setting an exciting tone and pumping up the fun factor. With the help of a magician, your wedding will be a whole lot more fun.
Even though the day is all about the bride and groom, having a magician there to boost the excitement makes the day loads of fun for everyone attending. Think about all the weddings you've attended and what kind of entertainment they had. The chances are if you've participated in a wedding with a magician present, you'll remember it.
If the magician was very talented, then even better.
3. Value for Money
A wedding magician is a one-person show, so it offers great value for money in many cases. You don't need to cough up for anything extra on logistics either because a walkaround wedding magician doesn't require any equipment other than their own.
All you need to do is get your magician to the venue, and he or she will take care of the rest, providing an excellent return on investment.
4. Personalized Magic
Magicians offer a unique wedding service. The great feature of wedding magicians is that the content of their magic tricks is full of variety.
A high-quality wedding magician will be flexible with their performances and customize presentations to include facts about the bride and groom. The right magician will also make an effort to fit your wedding theme too.
5. Unique
Many people have never seen a professional magician performing live and up close. For many, the first experience of watching magic leaves a lasting impression on them.
A wedding provides an excellent opportunity to allow them to experience something special they'll remember forever. Whenever they remember the magic, they'll also think back to your wedding.
6. Complements Other Entertainment
Wedding magicians are typically cooperative, collaborative, and excellent communicators. This makes them great for working along with your live band, DJ, and any other wedding entertainers you hire to create a nice balance and make your wedding more unique, memorable, and exciting.
Considerations
Many couples work out that they'd like a wedding magician for their event and start looking for one only to realize that there are many types of magicians out there.
For example, finding a magician for a child's birthday party is much simpler than sourcing one for a wedding. The chances are, if you don't hire a magician trained for weddings, the performance won't turn out as well as you wanted.
Like with any type of party entertainment, you need to consider the audience. While many of us love dad jokes, your wedding reception may not be the most appropriate place for them. Make sure that when you hire a magician, they have experience in wedding magic.
There are many types of shows different magicians will perform too. Some roaming magicians will work the crowd with interesting illusions and smaller tricks, while others may jump up on stage to entertain your guests.
Fees for these magicians vary, and you'll need to plan the event with them for the best results. Many couples prefer a small show with one-on-one interactions for a more personal experience for guests.
Are You Ready to Hire a Magician?
If you're ready to hire a magician, it's best to choose a wedding performer fully experienced and capable of working with the guests attending your event. A great entertainer will have everything required to perform in the time slot given.
Be sure to meet and have a consultation with your wedding magician to work out how long they'll perform, what tricks they'll do, and any requirements they may have.
For example, a wedding magician may need some type of backdrop so guests can't go behind the stage. You may also need to discuss with the wedding venue too.
A good performer will also be flexible with their materials and personalize their tricks and presentations to suit your wedding theme. This allows everything to remain consistent and unique to your wedding style.
If you're looking for a talented magician in the Atlanta area, we're here to help. For more information, check out our entertainment booking page. Your wedding guests are sure to be wowed by our professional, entertaining, and memorable selection of magicians.